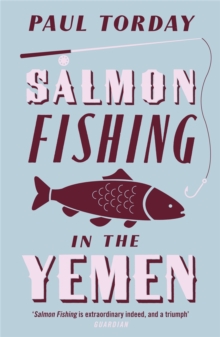 Salmon Fishing in the Yemen
Paperback
Description
An extraordinary, beguiling bestselling tale of fly-fishing and political spinning, of unexpected heroism and late-blooming love...This is the story of Dr Alfred Jones, a fisheries scientist - for whom diary-notable events include the acquisition of a new electric toothbrush and getting his article on caddis fly larvae published in 'Trout and Salmon' - who finds himself reluctantly involved in a project to bring salmon fishing to the Highlands of the Yemen - a project that will change his life, and the course of British political history for ever.With a wickedly wonderful cast of characters - including a visionary Sheikh, a weasely spin doctor, Fred's devilish wife and a few thousand transplanted salmon - SALMON FISHING IN THE YEMEN is a novel about hypocrisy and bureaucracy, dreams and deniability, and the transforming power of faith and love.
Information
Format: Paperback
Pages: 352 pages
Publisher: Orion Publishing Co
Publication Date: 14/06/2007
ISBN: 9780753821787
Other Formats
Paperback from £6.49
EPUB from £1.99
Free Home Delivery
on all orders
Pick up orders
from local bookshops
Reviews
Showing 1 - 5 of 18 reviews.
Previous | Next
Review by judithann
16/06/2015
Great book, especially if you're scientifically minded. The process of concept to realisation of an idea is described really well. The book consists of different types of text, such as emails, journal notes and interviews. A minor point of complaint: the interviews were not very realistic since the characters spoke in the type of language that you normally only would get when written. The book deals with the ideas of a sheik from Yemen who wants to create a river full of salmon in his native land, where he and his fellow countrymen (and tourists) can come to fish. Alfred Jones, a fishing scientist, is at first dismissive of the idea, but departmental and even national politics force him to take on the project. The book describes the process. It's a fun and easy read.
Review by Daveg0906
16/06/2015
A very enjoyable read. Read it in only 2 days whilst on holiday recently. It's an easy going political satire that probably says more about the politics in this country than fishing! Worth reading.
Review by essexgirl
16/06/2015
So-so. The office politics and the spin doctor rang several bells. But it did not gel as a whole. I liked the structure, but could not care a whit about any of the characters.
Review by herschelian
16/06/2015
If prizes were handed out for the most unusual book-titles of the year, Salmon Fishing in the Yemen by Paul Torday would certainly be on the short list. This is a book you may well have seen piled up in bookstores over the past twelve months as it was one of the Richard & Judy bookclub Summer Reads for 2007. I admit I had seen it but for some reason was never pulled towards it.This last fortnight I have been laid low with a horrendous flu-like virus which seems to have been doing the rounds, and a friend dropped a copy of SFinTY round to distract me and stop me feeling so sorry for myself! It was the perfect tonic, and I am so glad it did not pass me by.Dr Alfred Jones is a fisheries scientist employed by a government department. He is married, without children, to a very bossy, high-handed woman who earns more than he does and patronises him in every possible way. Out of the blue, Dr Jones is approached to do a feasibility study for a project to create a salmon river in the Yemen, something he initially dismisses out of hand as a completely daft idea. However, the scheme has come to the notice of various politicians who want the project to go ahead for a variety of self-serving political reasons. Dr Jones ends up being forced to take on the scheme, and to try to figure out hour to get 10,000 salmon out to the Yemen, and how to get water in a Yemeni wadi to meet the conditions necessary for their survival. The whole crazy plan changes Dr Jones in more ways than he could have envisaged and the reader becomes as anxious as he does that the scheme should succeed.The book is written as a series of letters, emails, diary entries and answers to a Parliamentary Inquiry, and apart from telling a hilarious tale, satirises the bureaucratic nonsense that often passes for governance in Britain today, and the horrible culture of "spin" which has been adopted by our politicians.
Review by DubaiReader
16/06/2015
Disappointing.Living in the Middle East, I'd hoped to find more to enjoy in this book. Whilst the characters behaved quite believably, the newspaper style format detracted from the content and I found the ending quite a disappointment.The rest of my book group, however, thought it was excellent and could imagine the exact same scenario here in Dubai!Alfred Jones, fisheries scientist, is horrified at the request to export thousands of salmon to swim in the wadis of Yemen. Forced to go along with the plan, he immerses his whole being into the project, even starting to believe that it might be possible.When British politics become involved and even the PM wants a look-in, things start to get out of hand. As Alfred's love life starts to spiral downwards and the Sheikh's absolute faith begins to thaw Alfred's cold heart, we start to see another side to his character.For me this book was spoiled by the rambling memos between government departments and the dry records of parliamentary proceedings. In addition, the ending was a disappointing anticlimax. With a different ending and improved format, it could have been an excellent book.An unusual choice for a Richard and Judy Summer read.