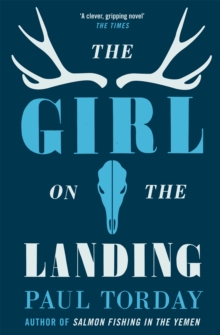 The Girl on the Landing
Paperback
Description
A ghost story, a psychological thriller and a tale of love rediscovered, from the bestselling author of SALMON FISHING IN THE YEMEN.Elizabeth has been married to Michael for ten years.
She has adjusted to a fairly monotonous routine with her wealthy, decent but boring husband.
Part of this routine involves occasional visits to Beinn Caorrun, the dank and gloomy house in a Scottish glen that Michael inherited.
There are memories there that Michael will not share with her.But then Michael begins to change.
It starts when he thinks he sees, in a picture, the figure of a girl on a landing.
As he changes, life becomes so much more fun and Elizabeth sees glimpses of a man she can fall in love with at last. But who - or what - is changing Michael ...?
Information
Format: Paperback
Pages: 320 pages
Publisher: Orion Publishing Co
Publication Date: 25/06/2009
ISBN: 9780753823408
Free Home Delivery
on all orders
Pick up orders
from local bookshops
Reviews
Showing 1 - 5 of 6 reviews.
Previous | Next
Review by wendyrey
16/06/2015
A normal but dull man has a secret and a mental health problem, he stops taking his medication and the full horror of his secret is gradually revealed. Enjoyble read but I am not sure that anyone with such a severe mental health issue would ever suceed in both living a normalish life and marrying without his spouse knowing a least something of his medical problem.Nonetheless a fine read.
Review by dsc73277
16/06/2015
Other reviewers appear divided on this one, personally I found it a very satisfying start to my reading year. Like others, the title and the opening chapter initially led me to expect a ghost story, but what followed turned out to be far more disturbing than that. I liked the book taking a different direction from what I was expecting. I liked having two different first person narrators, the main character Michael and his wife, without the cliche of alternating chapters coming from each of them.Salmon Fishing in the Yemen, his debut work, is still far and away my favourite by Paul Torday. It is a highly entertaining satire, quite different from The Girl on the Landing. Perhaps this accounts for the mixed ratings here? Authors who surprise their readers by going off in a different direction, do not always take their audience with them. Having said that, one thing that does appear to link his three novels to date is an interest in men in their 30s or 40s who are somewhat removed from the social mainstream. Torday seems to understand this type of male as closely as Austen understood young women in Georgian England.I can see why some readers may regard this book as ruined by its implausibility. Personally that did not bother me. I don't think Torday's primary objective here was to present a thorough exploration of mental illness. If that is what you are looking for then you might like to try Sebastian Faulks Human Traces. What we get in The Girl on the Landing is a book that cleverly combines elements of ghost story, thriller and romance, to further explore the author's abiding interest in the grown-up male outsider.
Review by lizchris
16/06/2015
A light novel which builds up nicely through the first half, but then lapses into melodrama and cliche. I found the insights into the mysteries of the human mind and relationships a bit laboured.
Review by Virtual_Jo
16/06/2015
One of those books that creeps up and you and bludgeons you over the head with an ending you'll never see coming...
Review by Mumineurope
16/06/2015
Elizabeth and Michael and mental illness