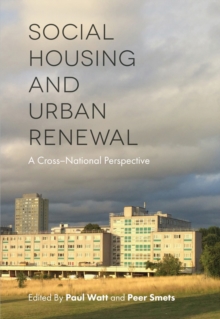 Social Housing and Urban Renewal : A Cross-National Perspective
Hardback
Description
This book offers a cross-national perspective on contemporary urban renewal in relation tosocial rental housing.
Social housing estates - as developed either by governments (publichousing) or not-for-profit agencies - became a prominent feature of the 20th century urbanlandscape in Northern European cities, but also in North America and Australia.
Manyestates were built as part of earlier urban renewal, 'slum clearance' programs especially inthe post-World War 2 heyday of the Keynesian welfare state.
During the last three decades,however, Western governments have launched high-profile 'new urban renewal' programswhose aim has been to change the image and status of social housing estates away frombeing zones of concentrated poverty, crime and other social problems.
This latest phaseof urban renewal - often called 'regeneration' - has involved widespread demolition ofsocial housing estates and their replacement with mixed-tenure housing developments inwhich poverty deconcentration, reduced territorial stigmatization, and social mixing of poortenants and wealthy homeowners are explicit policy goals.
Academic critical urbanists, as well as housing activists, have however queried this dominantpolicy narrative regarding contemporary urban renewal, preferring instead to regard it asa key part of neoliberal urban restructuring and state-led gentrification which generate newsocio-spatial inequalities and insecurities through displacement and exclusion processes.
Thisbook examines this debate through original, in-depth case study research on the processes andimpacts of urban renewal on social housing in European, U.S. and Australian cities. The bookalso looks beyond the Western urban heartlands of social housing to consider how renewal isoccurring, and with what effects, in countries with historically limited social housing sectors suchas Japan, Chile, Turkey and South Africa.
Information
Format: Hardback
Pages: 512 pages
Publisher: Emerald Publishing Limited
Publication Date: 15/08/2017
ISBN: 9781787141254