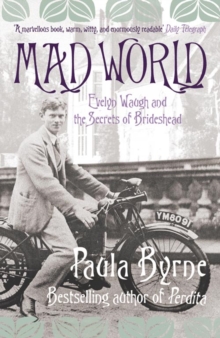 Mad World : Evelyn Waugh and the Secrets of Brideshead
Paperback
Description
A terrifically engaging and original biography about one of England's greatest novelists, and the glamorous, eccentric, debauched and ultimately tragic family that provided him with the most significant friendships of his life and inspired his masterpiece, `Brideshead Revisited'.Evelyn Waugh was already famous when `Brideshead Revisited' was published in 1945.
Written at the height of the war, the novel was, he admitted, of no `immediate propaganda value'.
Instead, it was the story of a household, a family and a journey of religious faith - an elegy, in many ways, for a vanishing world and a testimony to a family he had fallen in love with a decade earlier.The Lygons of Madresfield were every bit as glamorous, eccentric and compelling as their counterparts in `Brideshead Revisited'.
In this engrossing biography, Paula Byrne takes an innovative approach to her subject, setting out to capture Waugh through those friendships that mattered most to him.
Far from the snobbish misanthropist of popular caricature, she uncovers a man as loving and complex as the family that inspired him - a family deeply traumatised when their father was revealed as a homosexual and forced to flee the country.This brilliantly original biography unlocks for the first time the extent to which Waugh's great novel encoded and transformed his own experiences.
In so doing, it illuminates the loves and obsessions that shaped his life, and brings us inevitably to a secret that dared not speak its name.
Information
Format: Paperback
Pages: 384 pages, 30 col plates (16pp), Index
Publisher: HarperCollins Publishers
Publication Date: 27/05/2010
Category: Biography: literary
ISBN: 9780007243778
Free Home Delivery
on all orders
Pick up orders
from local bookshops
Reviews
Showing 1 - 2 of 2 reviews.
Review by etxgardener
16/06/2015
Evelyn Waugh used his entire life and those of his friends as copy for his many novels, so this literary biography that concentrates on his years in Oxford and through World War II is an excellent decoder ring to the novels from his most prolific and best-written period. As the title suggests, the bulk of the book concentrates on his relationship with the Lygon family who were the models for the Marchmains, and their beautiful home of Madresfield, the model for Brideshead.Now that I've read this book, I want to go back &amp; read <I>Brideshead Revisited</I> again. I think I'll understand many of the nuances much better.
Review by nigeyb
16/06/2015
Paula Byrne set out to write this book because she believed that Evelyn Waugh had been consistently misrepresented as a snob and a curmudgeonly misanthropist. I, for one, am very glad that she did. Paula Byrne eschews the "cradle to grave" approach, instead focussing on those key moments in Evelyn Waugh's life, and in particular those that informed his work.A few weeks before reading 'Mad World: Evelyn Waugh And The Secrets Of Brideshead', I read and thoroughly enjoyed 'Brideshead Revisited'. 'Brideshead Revisited' is an absorbing and sumptuous eulogy for the end of the golden age of the British aristocracy and, if you haven't read it yet, I envy you. I recommend reading both books fairly closely together. I felt I gained a lot from having Brideshead fresh in my mind. That said, I found I also gained plenty of interesting insights into other Evelyn Waugh books I'd read (Decline and Fall, Scoop, A Handful of Dust, and Black Mischief) - some of which I read many years ago.'Brideshead Revisited' is Evelyn Waugh's magnum opus, and I was amazed at the extent to which it was based on Evelyn Waugh's own experiences and those of people he knew. When one of Evelyn's friends asked him how he got away with using real life models for fictional characters, his reply was that you can draw any character as near as you want and no offence will be taken provided you say that he is attractive to women. That may be so, however there must have been plenty of people portrayed in Evelyn Waugh's fiction, particularly those he disliked, who would surely have taken offence. The other remarkable thing about Evelyn Waugh's biographical approach to fiction is how, frequently, the truth was stranger or more outrageous than the fiction it inspired. One notable example is the Lord Marchmain character in 'Brideshead Revisited', for whom Evelyn Waugh drew heavily on Lord Beauchamp (of the Lygon family who inspired many of the characters in 'Brideshead Revisited'), with one significant difference. In deference to the Lygon family, he removed almost all traces of Lord Beauchamp's homosexuality. It was this homosexuality that was at the centre of a scandal that caused his downfall, and exile from England. The real story is far more surprising and tragic than the backstory hinted at in 'Brideshead Revisited'. The best biographies bring their subjects alive, and so inspire their readers to investigate further. This biography succeeds in bringing Evelyn Waugh, and his world, vividly to life. Before reading this biography I was already convinced that Evelyn Waugh was one of the greatest novelists of the twentieth century. After reading 'Mad World: Evelyn Waugh And The Secrets Of Brideshead', I feel I understand him better and feel inspired to read those books I have not read, and to re-read those that I already know. If you have any interest in either Evelyn Waugh, or the era and social milieus he depicts in his books, then I feel sure you'll devour this biography - as I did.