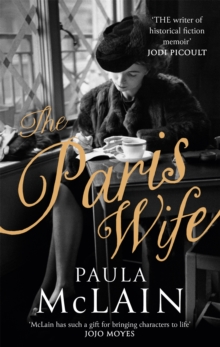 Description
Chicago, 1920: Hadley Richardson is a shy twenty-eight-year-old who has all but given up on love and happiness when she meets Ernest Hemingway and is captivated by his energy, intensity and burning ambition to write.
After a whirlwind courtship and wedding, the pair set sail for France.
But glamorous Jazz Age Paris, full of artists and writers, fuelled by alcohol and gossip, is no place for family life and fidelity.
Ernest and Hadley's marriage begins to founder, and the birth of a beloved son serves only to drive them further apart.
Then, at last, Ernest's ferocious literary endeavours begin to bring him recognition - not least from a woman intent on making him her own . . .
Information
Format: Paperback
Pages: 400 pages
Publisher: Little, Brown Book Group
Publication Date: 01/01/2012
ISBN: 9781844086689
Free Home Delivery
on all orders
Pick up orders
from local bookshops
Reviews
Showing 1 - 4 of 4 reviews.
Review by spincerely
16/06/2015
Very interesting historical fiction. I learned quite a bit - I must have had high school teachers who liked Hemingway because I remember reading quite a few of his books though that was years ago. I found that I really liked Hadley. I guess one of the "perks" about writing historical fiction is that you don't really get to pick the ending, but I liked the way this story ends with a lot of truth to it. It was all tied up with all the neatness like some books. One thing that I found interesting was how much they feigned poverty. Really? With all those vacation and a nanny that traveled with them? Maybe though - compared to their peers in Paris though it didn't seem to bother anyone but themselves if they had less money.
Review by DubaiReader
16/06/2015
Fabulous view of 20's Paris.I wasn't expecting to enjoy this as much as I did - one of my book groups read it a few months ago and their feedback was not enthusiastic. So, when I started reading and found myself more and more involved in the lives of Ernest Hemmingway and his wife, Hadley, it was a lovely surprise.Set in 1920's Paris, the author has painted a fabulous picture of decadence and Bohemian living. Hemmingway and his wife enter this scene with little money and a certain distain for the extravagance, but they are eventually swept into a way of life that threatens to destroy all that they hold dear.They met in Jazz Age Chicago, Hadley in her late twenties, Earnest just 21, and after a brief, long-distance romance, they married to travel to France. Hemminway is still traumatised fom WWI and leans heavily on Hadley for support. He is just beginning his writing career and desperately needs her praise for his work.They settle gradually into France, meeting many of the big names in literature. Hemmingway has periods of great productivity and patches where he struggles to write, depending on his moods. He can't have been easy to live with.They travelled through Europe, spending moinths at a time away from Paris. The bull fighting in Pamploma was a particular draw.They were a rarity, a marriage that appeared to work, a monogomous couple. But the pressures around them and the sexual freedoms made this hard to maintain and the marriage only lasted for 5 years. Apparently Hadley was the love of Hemmingway's life and in later life he regretted certain decisions that he made at this time.This was wonderfully written, mainly narrated by Hadley, rather than Hemmingway. I think the book would have read very differently had it been Hemmingway's voice.I have never read anything by Hemmingway, nor the other authors with whom he mixed, but my curiosity has now been aroused and I would particularly like to read one of the books written, semi-biographically, from this time. Possibly A Movable Feast would be a good place to start.This was a fascinating view of 20's Paris, as lived by the artistic set. A great read, highly recommended.
Review by PennyAnne
16/06/2015
I loved this book! I don't really like Ernest Hemingway's writing but I do think he led an interesting life so this was an easy way for me to read a bit more about his first marriage without reading A Moveable Feast or The Sun Also Rises (although I am now thinking I will read these books at some point). I also enjoyed reading this story from Hadley's perspective and although she needed to come to her senses a whole lot earlier than she did I also think that she and Hemingway shared a great love story - but definitely one that couldn't last.
Review by Vivl
16/06/2015
Ugh. Basically, a slog, and one which I would not have completed were it not for book club. There were degrees of slog involved: the beginning, to my mind, was utterly dire--trite, boring, at least every second sentence cliché-ridden to the point of extreme; I felt as though I was reading a particularly poorly-written historical romance with cardboard cut-out characters. I could not imagine, and this feeling never left me, why Hemingway would be attracted to this unutterably bland and apparently stupid woman (at least as written by Paula McLain.) I've seen photos of her and yes, she was quite lovely looking, but five minutes in the company of this character (I want to get the *real* Hadley the benefit of the doubt and assume she had a touch more nous!) and I'd be wanting to garrotte myself. Once the couple headed to Paris things became slightly interesting but still consisted largely of not terribly inspiring visits with folk, famous or otherwise (unlike some others, the "name dropping" didn't bother me--after all, they DID know and hang out with those people so wouldn't it be a bit silly not to mention them?), and boozy evenings/afternoons/mornings... on the plus side, the clichés became less frequent. The last forty or so pages, so around 10% of the book, began to actually pique my interest (although I still wanted to SLAP Hadley for being such a goopy goopy goop goop ALL the TIME) and made me feel that if the book had been much closer to the 300 page mark than bordering on 400, so that interesting things actually HAPPENED on a regular basis, it could have been a lot better.