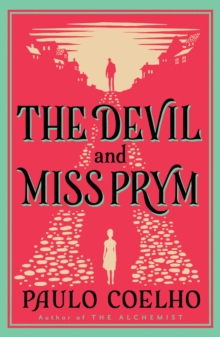 The Devil and Miss Prym
Paperback
Description
A new novel from Paulo Coelho, author of The Alchemist. A stranger arrives in the small mountain village.
He carries with him a backpack containing a notebook and eleven gold bars. Burying these in the vicinity, the stranger strikes up a curious friendship with a young woman from the village - Miss Prym.
His mission is to discover whether human beings are essentially good or evil. In this stunning new novel, Paulo Coelho's unusual protagonist sets the town a moral challenge from which they may never recover.
A fascinating meditation on the human soul, The Devil and Miss Prym illuminates the reality of good and evil within us all, and our uniquely human capacity to choose between them.
Information
Format: Paperback
Pages: 224 pages
Publisher: HarperCollins Publishers
Publication Date: 30/03/2002
ISBN: 9780007116058
Free Home Delivery
on all orders
Pick up orders
from local bookshops
Reviews
Showing 1 - 4 of 4 reviews.
Review by wendyrey
16/06/2015
Another odd story from Coelho, the plot as impenetrable as ever, I'm not that keen on his writing style either which is odd as I usually like sparse writing.
Review by mzzkitee
16/06/2015
I didn't get very much out of this book.
Review by soylentgreen23
16/06/2015
A stranger arrives in a small town in the middle of nowhere, carrying a bag of gold bars. He's struggling with his own personal devil, and wants to know if there is good in the world, of if all people are evil. To find out, he makes a deal with the townspeople - if they murder one of their townsfolk, he will give them the gold. If they accept his offer, he will have his answer - that all men are evil - and if they don't, he will know that people are capable of good.I was intrigued more by the style of Coelho's writing, and what went into it, than the story itself. Philosophical dilemmas are very difficult to resolve in a book, and I have to admit to being slightly disappointed by the ending, but otherwise there's a lot that should provoke thought in the reader. The good vs. evil debate is well presented, and the story is so full of parables, metaphors and allegories that I have enough to chew over for the next couple of weeks at least.
Review by revslick
16/06/2015
Coelho is a teller of parables and fables. Sometimes the weave of tales crafts story and character gracefully leading you into an illuminated journey and other times the illuminated journey is like a car attendant with a big flashlight at a country fair leaving little character and story development with the feeling of being rushed. Either way there's illumination, but everybody prefers the slow sunrise. This one is a tale of temptation and unfortunately falls into the second category, but it is still worth the read.