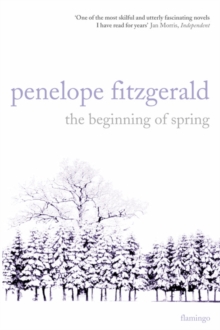 The Beginning of Spring
Paperback
Description
Shortlisted for the Booker Prize. It is March 1913, and the grand old city of Moscow is stirring herself to meet the beginning of spring.
Change is in the air, and nowhere more so than at 22 Lipka Street, the home of English printer Frank Reid. One day Frank's wife Nellie takes the train back to England, with no explanation, leaving him with their three young children.
Into his life comes Lisa Ivanovna, a country girl, untroubled to the point of seeming simple.
But is she? And why has Frank's accountant Selwyn, gone to such lengths to bring them together? And who is the passionate Volodya, who breaks into the press at night? Frank sees, but only dimly, that he is a rational man in Moscow, a city where love, and friendship, power and politics, are at their most unfathomable.
Information
Format: Paperback
Pages: 256 pages
Publisher: HarperCollins Publishers
Publication Date: 27/04/1989
Category: Historical fiction
ISBN: 9780006543701
Other Formats
Hardback from £10.19
EPUB from £5.24
Free Home Delivery
on all orders
Pick up orders
from local bookshops
Reviews
Showing 1 - 3 of 3 reviews.
Review by hansel714
16/06/2015
Penelope Fitzgerald has influential family connections, although from the book, she can certainly stand on her own. The Beginning of Spring is set in Moscow, 1913, just before the Russian Revolution. It tells of the family and work troubles of a British printer who is born and raised in Russia.I like how Fitzgerald incorporates the literal into the metaphorical (or is it the other way round?): everything extraneous and illicit is dumped into the river; in Russia, there are only white birch trees. I also like how the characters are never in sync with one another as if we, the readers, are missing parts of the conversation.But don't ask me what the metaphors mean, and don't ask me what the philosophy of the book is because I really don't know.
Review by PennyAnne
16/06/2015
It is 1913 in Moscow and Frank Reid is a Russian born Englishman, married to an Englishwoman who has left him to return to England. With three young children to care for and a business to run, Frank finds that he must hire Lisa Ivanovna (who finds odd but compellingly attractive) as a 'temporary' governess. This book is rich with humour and with a good insight into life in pre-revolutionary Russia. Nothing is ever quite explained and the ending of the story is strangely unsatsifying while being distinctly realistic. I was given this book as a gift and hadn't read any of Penelope Fitzgerald's work before - I find that I am quite won over by her writing and will definitely look for more of her work.
Review by wandering_star
16/06/2015
There are really two stories in this book - the story of the Reid family, a father and three children whose mother has left without warning or explanation, and the story of pre-revolutionary Moscow in the early twentieth century, with its political fervour, traditional customs and complex social relations. The two stories are brought together in the person of Frank Reid, a Russian-born British printer, who seems always slightly out of place whether people are treating him as English or Russian. The contrast between England and Russia is one of the subtle themes of the book, as is the difficulty of two people ever really understanding each other. Perhaps these two themes go some way to explaining Frank's wife's mysterious disappearance.<i>Frank walked past the coal tips and the lock-up depositories through the cavernous back entrance of the station. Inside the domes of glass a gray light filtered from a great height. Not many people here, and some of them quite clearly the lost souls who haunt stations and hospitals in the hope of acquiring some purpose of their own in the presence of so much urgent business, other people's partings, reunions, sickness and death.</i>The most immediate pleasure of the book comes from the depiction of Moscow. Fitzgerald must have done lots of research but sneaks it into the pages almost in asides, so you feel that it's assumed you know as much as she does. "Like all merchants, and all peasants, Kuriatin was obsessed with the chance to cut down trees." At one time we see Frank looking for a sledge "with a driver who was starting work, and not returning from the night's work drunk, half-drunk, stale drunk, or <i>podvipevchye</i> - with just a dear little touch of drunkenness."There is also a certain social comedy, especially seen in Frank's habit of floating disconnectedly through complicated social situations. "In the confusion, which rapidly became the monotony, of loss it was something to have a fixed point when things must change or be changed, if only by the arrival of Charlie, That was not quite the same thing as wanting him to come, but it meant that Frank had to make arrangements and give instructions, two ways of bringing time to order." My favourite character is Frank's precocious daughter, whose matter-of-fact approach to life can be seen as a reaction to her father's passivity.It was only in the last few chapters that the book became fully-formed for me, as they reveal all the unseen threads which Frank has been ignorant of. I was most struck by one amazing chapter which is mainly a description of the family's tumbledown dacha, but at the same time (it seems to me) a description of Russia. It ends with a rather surreal scene which is perhaps the pivot of the book, loaded with political, symbolic and poetic weight which suddenly makes everything make sense.