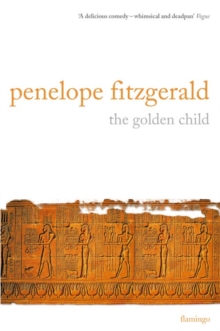 The Golden Child
Paperback
Description
`The Golden Child', Penelope Fitzgerald's first work of fiction, is a classically plotted British mystery centred around the arrival of the Golden Child at a London museum.Far be it for the hapless Waring Smith, junior officer at a prominent London museum, to expect any kind of thanks for his work on the opening of the year's biggest exhibition - The Golden Child.
But when he is nearly strangled to death by a shadowy assailant and packed off to Moscow to negotiate with a mysterious curator, he finds himself at the centre of a sinister web of conspiracy, fraudulent artifacts and murder...Her first novel and a comic gem, `The Golden Child' is written with the sharp wit and unerring eye for human foibles that mark Penelope Fitzgerald out as a truly inimitable author, and one to be cherished.
Information
Format: Paperback
Pages: 192 pages
Publisher: HarperCollins Publishers
Publication Date: 13/06/1994
ISBN: 9780006546252
Free Home Delivery
on all orders
Pick up orders
from local bookshops
Reviews
Showing 1 - 1 of 1 reviews.
Review by RandyMetcalfe
16/06/2015
Penelope Fitzgerald was already 60 years old when her first novel, <i>The Golden Child</i>, was published in 1977. I think 'zany' is the only term that fully applies. It is a novel that spills over with enthusiasms and peculiarities. It has a plot that moves from London to Moscow and back to London, with a brief stop at the Moscow Circus. There are secret service agents and high intrigue and murders and fraud and double-dealing. But the overriding concern might be whether the reluctant protagonist, Waring Smith, will be able to sustain his mortgage with the Whitstable and Protective Society.The setting is primarily the British Museum (or a reasonable facsimile thereof), whose administration, as portrayed here, is positively byzantine. (But fully believable for anyone who interacted with British institutions in the 1970s.) Sir William Simpkin, the playful benefactor of the museum and original discoverer of the golden treasure of the Garamantes, an exhibition of which is about to go on display at the museum, knows something isn't entirely right about the exhibition. But there are multiple competing interests at stake, not least the hundreds of members of the public queuing in the rain to see the centrepiece artefact, the golden child. Fortunately Sir William inspires the loyalty of key members of staff such as Waring Smith, Jones Jones, and Len Coker. They attempt to thwart the forces of avarice and careerism. And thanks to the contribution of the sometime clown, Splitov—who does double duty as the Garamantian expert Professor Untermensch—they mostly succeed. Much frantic activity ensues, at least some of it sensible.It is a helter-skelter ride. At moments you'll see the brilliantly incisive wit and honest compassion that mark Fitzgerald's later novels. At other moments you'll see her struggling to keep all her plates in the air as the plot starts to run away from her. But overall, I think you'll find an author you can come to trust. Gently recommended for zany good humour and moments of almost heart wrenching pathos.