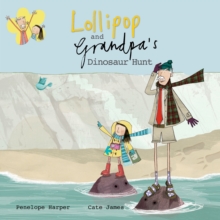 Lollipop and Grandpa's Dinosaur Hunt
Paperback / softback
Description
"Nonsense!" says Grandpa. "Dinosaurs are not extinct. They're just very good at hiding." On a family outing to a blustery British beach, Lollipop and Grandpa explore the Jurassic coast.
Following Grandpa's dinosaur trail, they encounter a DIGGERO-DOCUS, STAIR-GO-SAURUS and a TRY-SEE-THE-TOPS.
When they stumble across a terrifying PYLON-A-SAURUS REX, Lollipop has to think fast.
In a fast-paced competition of hide-and-seek, who is hunting who?
Lollipop and Grandpa are intrepid explorers, always on the lookout for the next adventure. Underpinning the series is the relationship between an intelligent, inquisitive little girl and her mischievous grandparent who understands the workings of a child's mind brilliantly.
All stories combine the familiar trials and tribulations of being 4-years-old with great fantasy adventures arising from ordinary, everyday identifiable situations.
Humorous, warm family fun. REVIEWS: "Lollipop's family settles in for a day at the seaside, but it just so happens, that they are also on the Jurassic Coast.
Of course the dinosaurs have died out millions of years ago...or have they?Grandpa says they haven't really disappeared, they are just very good at hiding, so the pair set off on a quest to finding the missing dinosaurs. ..There is also just a nice warm feeling reading this book as it shows a truly magical relationship between Lollipop and her Grandpa.
I feel the best thing about this book though, is that it encourages children to look at their surroundings in a new way." -- THE BOOKBAG. "These books are a wonderful celebration of the very special relationship that can exist between grandfather and granddaughter.
This time, the intrepid pair are off in search of dinosaurs with their wonderful blend of reality and imagination.
The family are on holiday on the Jurassic Coast and there are dinosaurs everywhere - but not dinosaurs as we know them - there's the Digger-dosus, the Stair-go-saurus, the Try-see-the tops and the Pylon-a-saurus Rex.
Brilliantly imaginative and wonderfully understanding of how children feel, all enhanced by the charming illustrations." -- PARENTS IN TOUCH. "Lollipop and her delightfully eccentric Grandpa set off on a dinosaur hunt while on holiday on Dorset's Jurassic Coast.Their quarry includes many previously unseen specimens, such as the Pylon-a-Saurus Rex and a Diggero-docus, a giant creature that is part digger and part dinosaur. It's hard for a dinosaur to hide, so spotting them is as much fun for readers as it is for Lollipop and Grandpa.
Cate James' stylish illustrations make these new-fangled dinosaurs live." -- THE GUARDIAN. "This tall tale celebrates Grandpa's creative powers of suggestion, and the truth that we often see what we expect to find.
The family is having a day out, in late autumn, on the Jurassic coast.
Grandpa takes Lollipop on a dinosaur hunt, and their imagination does the rest.
Together they find an assortment of fossilised prehistoric creatures suggested by shapes in the cliffs including the Stair-Go-Saurus and the Pylon-o-saurus (or should that be, Stegosaurus and Tyrannosaurus).
Two scenes, through changes of viewpoint, imply that perhaps the hunters are being observed by something or other which adds a touch of spine-tingle. And there is the mystery of Grandpa's instant discovery of a large ammonite on the beach; did he take it there hidden in his rucksack, ready to produce at the right moment?Quirky line drawings elegantly cartoon the action, partnered with passages of chilly colour. The picture book promotes the question of just what really is going on, and encourages viewers to have a close look and a good think.
Word play, personal anecdotes about family relationships, and reminiscences of trips to the seaside are all encouraged.
Research on dinosaur discovery at Lyme Regis is just waiting to be explored.
There is a helpful guide to the creatures and their tongue-twisting names on the end-paper." -- SCHOOL LIBRARIAN JOURNAL.
Information
Format: Paperback / softback
Pages: 32 pages, Illustrations
Publisher: Phoenix Yard Books
Publication Date: 13/05/2013
Category: Fiction & true stories
ISBN: 9781907912269
Free Home Delivery
on all orders
Pick up orders
from local bookshops
Also in the Lollipop and Grandpa series | View all