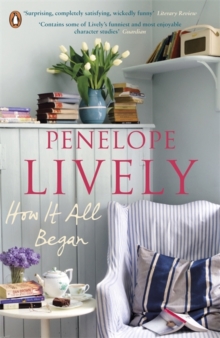 How It All Began
Paperback
Description
How It All Began is the wonderful new novel from Booker Prize winner Penelope LivelyWhen . . . Charlotte is mugged and breaks her hip, her daughter Rose cannot accompany her employer Lord Peters to Manchester, which means his niece Marion has to go instead, which means she sends a text to her lover which is intercepted by his wife, which is . . . just the beginning in the ensuing chain of life-altering events.In this engaging, utterly absorbing and brilliantly told novel, Penelope Lively shows us how one random event can cause marriages to fracture and heal themselves, opportunities to appear and disappear, lovers who might never have met to find each other and entire lives to become irrevocably changed.Funny, humane, touching, sly and sympathetic, How It All Began is a brilliant sleight of hand from an author at the top of her game.'Contains some of Lively's funniest and most enjoyable character studies . . . she remains a sublime storyteller'Guardian'Deeply comical, essentially kind-hearted, wonderfully written and seasoned with a rare wisdom' Literary Review'More stylish than many writers half her age . . . Lively knows a thing or two about storytelling . . . her candour is refreshing, and reminds us that you don't have to lie to yourself to live life finely until the very end' The TimesPenelope Lively is the author of many prize-winning novels and short-story collections for both adults and children.
She has twice been shortlisted for the Booker Prize: once in 1977 for her first novel, The Road to Lichfield, and again in 1984 for According to Mark.
She later won the 1987 Booker Prize for her highly acclaimed novel Moon Tiger.
Her other books include Going Back; Judgement Day; Next to Nature, Art; Perfect Happiness; Passing On; City of the Mind; Cleopatra's Sister; Heat Wave; Beyond the Blue Mountains, a collection of short stories; Oleander, Jacaranda, a memoir of her childhood days in Egypt; Spiderweb; her autobiographical work, A House Unlocked; The Photograph; Making It Up; Consequences; Family Album, which was shortlisted for the 2009 Costa Novel Award, and How It All Began.
She is a popular writer for children and has won both the Carnegie Medal and the Whitbread Award.
She was appointed CBE in the 2001 New Year's Honours List, and DBE in 2012.
Penelope Lively lives in London.
Information
Format: Paperback
Pages: 256 pages
Publisher: Penguin Books Ltd
Publication Date: 01/05/2012
ISBN: 9780241957271
Free Home Delivery
on all orders
Pick up orders
from local bookshops
Reviews
Showing 1 - 5 of 5 reviews.
Review by nocto
16/06/2015
review I love Penelope Lively and really liked this story. I think the references to "chaos theory" are a bit overblown in most of the reviews I've seen. The plot is more like watching dominoes fall over and seeing how far away the effects of the initial nudge to the first domino are felt.The cover is the most delightful one I've seen in years! I kept going back and looking at the picture and figuring out what all the books pictured were. Most of them feature in the book (apart from the Lively's of course!)
Review by SandDune
16/06/2015
I used to read a lot of Penelope Lively and then around ten years ago we had a big clear-out of our bookshelves and I got rid of most of the old Penelope Lively books that we had (except Moon Tiger, one of my favourites. I think I had just read too many of her books in a short space of time and was a bit bored. And now of course, I'm regretting that we no longer have those books and want to re-read them. How it All Began is her latest book, written at the age of nearly eighty, which deals with the ramifications spreading out from a single chance event, and in doing so deals beautifully with the realities of ageing and family life.Charlotte is mugged: an independent woman in her seventies, she is forced to move in temporarily with her daughter and son-in-law while her broken hip heals. But the ramifications from her accident spread far beyond her immediate family. When her daughter Rose is forced to cancel her trip accompanying her employer, Lord Henry Peters, an ageing historian, he asks his niece Marian to accompany him instead, which forces her to text a cancellation to her married lover that is picked up by his wife. And without the ever efficient Rose, the lecture notes are forgotten, forcing Lord Peters to confront the signs of his own ageing as he stumbles through a talk that would once have been child's play for him. And Charlotte's introduction of an Eastern European immigrant to her daughter's house, as she continues to give the reading lessons which she has previously provided in class, has implications for Rose's own future.Altogether a very good read: in detailing the different reactions of Charlotte and Lord Peters to the aging process it seems to provide a wonderful insight into the realities of ageing. I think that I'll be going back to read more Penelope Lively in the near future.
Review by peggygillman
16/06/2015
It all started with a mugging. This is the story of the cascading events it begins. Several lives are impacted and this writer made me care about them all. A lovely book, devoured after many not so good ones. 3/9/12
Review by timswings
16/06/2015
Penelope Lively is a superb storyteller. Also in good evidence is the fact that she studied history. How to look at history and what history is, now and than glimsed at in this charming story, which is also full of wisdom and good in character drawing . A citation of what, to her view, history is about: "That's what history is for - a morass of contentious stories that may of may not have a measure of veracity but are there to serve as fodder for the keen forensic analyst of another age".
Review by PennyAnne
16/06/2015
I absolutely loved this story which demonstrates how the ripples of the 'butterfly effect' can affect many lives far removed from the pivotal event. The story begins with the mugging of elderly, retired school teacher Charlotte and then goes on to demonstrate the effect this event has on many unrelated lives. Penelope Lively is a master storyteller - she writes fluidly and with great insight. She's also quite funny!