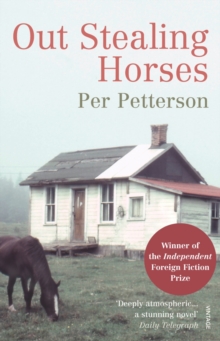 Out Stealing Horses
Paperback
Description
In 1948, when he is fifteen, Trond spends a summer in the country with his father.
The events - the accidental death of a child, his best friend's feelings of guilt and eventual disappearance, his father's decision to leave the family for another woman - will change his life forever.
An early morning adventure out stealing horses leaves Trond bruised and puzzled by his friend Jon's sudden breakdown.
The tragedy which lies behind this scene becomes the catalyst for the two boys' families gradually to fall apart.
As a 67-year-old man, and following the death of his wife, Trond has moved to an isolated part of Norway to live in solitude.
But a chance encounter with a character from the fateful summer of 1948 brings the painful memories of that year flooding back, and will leave Trond even more convinced of his decision to end his days alone.
Information
Format: Paperback
Pages: 272 pages
Publisher: Vintage Publishing
Publication Date: 06/07/2006
ISBN: 9780099506133
Free Home Delivery
on all orders
Pick up orders
from local bookshops
Reviews
Showing 1 - 5 of 10 reviews.
Previous | Next
Review by Niecierpek
16/06/2015
A 67-year-old man who recently lost his wife moves out of a busy city to a small country cabin in search of solitude, and, even though he doesn't know it at the time, to come to terms with fateful events of the summer when he was 15. It's a beautifully written book that revolves in the end around a father-son relationship. It found its place on the top ten list of The New York Times best books of 2007. I agree.
Review by msbaba
16/06/2015
Out Stealing Horses, by Per Petterson, is a magnificent gem of a novel. It's a contemplative book that slowly builds momentum for the compelling mystery of human suffering at its core. The story is constructed around a bare sliver of a plot, but there is enormous emotional impact in the telling. The prose is deceptively simple, but so vivid with nuanced detail that the reader immediately becomes caught up and lost in the telling. The book takes place in 1999 with frequent flashbacks to 1948. The story concerns Trond Sander, a 67-year-old man coming to terms with his aging body and still grieving three years after the deaths of his wife and sister. Telling no one, not even his two grown daughters, Trond takes his pension and moves to an isolated lakeside cabin in the wilds of northern Norway. There he plans to live out the rest of his life in quiet solitude. He spends his days repairing his ideally situated but ramshackle cabin, taking walks with his beloved dog, absorbing the beauty of nature that fill his senses with pleasure at every turn, and dealing with the mundane necessities of everyday life. He has an acute desire to be alone, and is, in every way, perfectly content with this isolation. Circumstances bring Trond together with one of his neighbors, Lars Haug, another solitary man. It doesn't take both men very long to realize that they share a mysterious common heritage of heartache some fifty years earlier when Trond was 15 and Lars was a 10-year-old neighbor boy, the little brother of his close friend Jon. Long dormant memories are awakened, old wounds opened; yet both men avoid discussing their common history of emotional pain.It is this mystery of what really happened between their two families in the summer of 1948 that holds the book together. Slowly, over the course of the novel, bits and pieces of their shared history become known. Petterson artfully chooses to reveal mere tidbits of facts, barely hinting at any deeper emotional impact, always leaving questions unanswered. The author leaves it up to the reader to put the pieces together, and add meaning to the whole. In order to do this, readers must use their own experience to help them supply feelings, opinions and assumptions about each character's motivations. This technique is certainly the genius behind this novel: it makes the reader an active participant in the figuring out all the "what," how," and "why" of events. Among any group of readers discussing this book, there will be significant differences in how the events are interpreted and found meaningful. That is why this book has such a profound emotional impact: readers must take it into their hearts and make it meaningful in terms of their own life experiences.There is a lovely passage early in the book when Trond is thinking about his quiet, arms-length assimilation into the village community near his cabin. This passage is noteworthy because it reveals not only a great deal about the main character's personality and mature understanding of life, but also lets readers in on how the author plans to reveal Trond's story over the course of the novel. In this passage, Trond thinks about his basic interactions with village people and reasons:"People like it when you tell them things, in suitable portions, in a modest, intimate tone, and they think they know you, but they do not, they know about you, for what they are let in on are facts, not feelings, not what your opinion is about anything at all, not how what has happened to you and how all the decisions you have made have turned you into who you are. What they do is they fill in with their own feelings and opinions and assumptions, and they compose a new life which has precious little to do with yours, and that lets you off the hook" (page 73).So, don't be surprised at the end of this book when you find the author doesn't put himself on a hook and reveal every crucial detail about how the events actually play out. Enjoy finding your own meaning, and trusting your own interpretation. If you do, you'll join legions of readers around the world who hold this book close to their hearts. This book gets my unqualified highest recommendation.
Review by wandering_star
16/06/2015
A deceptively simple tale of the decisions we make that change the course of our lives, deliberately or otherwise. Trond, a taciturn widower living in remote rural Norway, is triggered to look back at one summer of his childhood, which affected the rest of his life.
Review by dylanwolf
16/06/2015
I'm no backswoodsman and I find it difficult to invest in stories of remote existence where physical prowess and know-how is an essential to survival. Our protagonist Trond recalls a childhood incident when he reluctantly accompanied his friend Jon on an expedition out stealing horses and learnt a lesson about the human capacity for cruelty. He discovers that his only neighbour out in the wilds of Norway, Lars, is the younger brother of that childhood friend. We learn that Trond's father was involved in resistance work during the second world war. No doubt a good novel, but not one at all to my taste.
Review by sydamy
16/06/2015
This book sort of leaves me mixed. The prose was beautiful. I could hear the loneliness in the narration. Unfortunately the story was not all that gripping. I kept waiting for something to happen. There was a reveal early on but not a lot was done with it. Many of my questions, and it seems the narrators, go unanswered. I felt there was a lot of potential that didn't get realized. I wishlisted this book due to rave reviews here on LT and I was excited about reading it, but for me it just didn't work.