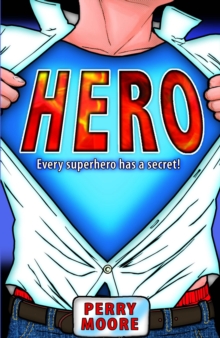 Description
Even though Thom Creed's a basketball star, his high school classmates keep their distance.
They've picked up on something different about Thom.
Plus, his father, Hal Creed, was one of the greatest and most beloved superheroes of his time until a catastrophic event left him disfigured and an outcast.
The last thing in the world Thom wants is to add to his father's pain, so he keeps secrets.
Like that he has special powers. And he's been asked to join the League -- the very organization of superheroes that disowned Hal.
But joining the League opens up a new world to Thom.
There, he connects with a misfit group of aspiring heroes:* Scarlett, who can control fire but not her anger* Typhoid Larry, who can make anyone sick with his touch* Ruth, a wise old woman who can see the futureTogether these unlikely heroes become friends and begin to uncover a plot to kill the superheroes.
This groundbreaking and widely acclaimed novel tells an unforgettable story about love, loss, and redemption.
Information
Format: Paperback
Pages: 432 pages
Publisher: Random House Children's Publishers UK
Publication Date: 01/05/2008
Category: Fantasy
ISBN: 9780552555869
Free Home Delivery
on all orders
Pick up orders
from local bookshops
Reviews
Showing 1 - 2 of 2 reviews.
Review by penwing
16/06/2015
I read it but really the best I can say about it is "meh". It's based on the type of comic book I find inane - the perfect costumed superhero. *Kapow* *Bash* *Yawn* etc.
Review by TPauSilver
27/08/2015
Hero is the story of a young gay boy from a super-conservative family and area who secretly joins a super-hero team. Now, I am 100% there for the gay teen superhero romance. I am. I saw this book and HAD to buy it becasue it's my thing. Young adult, love it. Queer characters, yes please. Superheroes, all about that. This book concept might have been made entirely for me (or, you know, one of the many people I share interests with). And it's got really good things. There are some great characters. The romance is charming in places and at times very subtle. The focus isn't on Thom being gay but on him being a superhero so this isn't a gay teen book with superheroes so much as a superhero book with a gay protagonist and, again, 100% there for that. There's a lot of potential here and I'd definitely look the author up again further down the line. But this is a first book. It's a first book and it has problems. Moore often doesn't think things through which is a very first book mistake and something he'll hopefully grow from. It's things like, Thom uses his power in a hospital and causes a lot of people to black out. There are apparently no consequences to this. I mean, this is a hospital. What happened when the ambulance driver tearing in blacked out? When the surgeon in the middle of re-starting this kid's heart blacked out? when the damn delivery driver across the road blacked out and ran over a load of blacked out and unresisting passers-by? Not thought through. There are other examples through the novel. There are moments they don't have the emotional impact they might. Moore is a lot better at writing action than emotion. I also had questions about the time period where this novel was set. Thom experiences epic amounts of homophobia. This might have been appropriate in, say, the 80s or 90s but I don't think the same kind of societal-homophobic and universal revulsion would be expected today. Which isn't to say that a kid coming out today wouldn't face homophobia but literally EVERYONE in this book was homophobic to some degree apart from Thom and potential future boyfriend who Thom THINKS is homophobic but it turns out he misinterpreted it. I can't say much without spoiling it but it seems kind of blown out of proportion, but a few things in this book gave that sense. I also wanted to comment on Thom's relationship with his father. Thom is physically afraid of his father, not just his rejection but that his father might hurt him. His father shows up at his secret superhero training base and physically drags him from the room, leaving bruises on him, then pins him to the wall by his neck. In a room full of superheroes. And they mostly react by talking and kind of blaming Thom for not telling his dad about the secret superhero thing? I wanted them to intervene, to call out the behavior. To refuse to let them leave the building together. Hell, I'd have done that and I'm actively afraid of physical violence. And, one last thing, I feel like all I'm doing is complaining. The superhero elements were often good but sometimes there was a kind of disconnect, like Moore couldn't decide if he was writing cheesy golden age heroes or watchmen, so he kind of came of as a bit of both and it didn't quite work. He also relied on archetypes and known characters to flesh out many of the background heroes which, yeah, you can't fully realise a cast that big but he stole entire back stories and it felt more like laziness than loving homage. He basically pinched the DC canon and stripped it back to the bare bones. Also, he dissed his obvious Captain America substitute and I have a lot of things to say about that. So, yeah. There were a lot of things to like about this book but there were also a lot of elements that negatively impacted my enjoyment of it. If you're desperate for more gay teen superheroes it's not a bad read. If you're just starting on the gay teen superhero genre can I suggest you check out Young Avengers instead? In Gillen's run everybody is queer and nothing hurts (or, well, everything hurts but you know what I mean) on top of the canonically gay established couple.