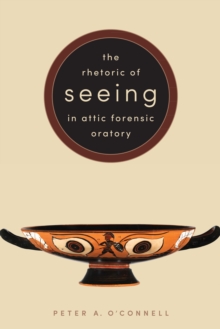 The Rhetoric of Seeing in Attic Forensic Oratory
Hardback
Description
In ancient Athenian courts of law, litigants presented their cases before juries of several hundred citizens.
Their speeches effectively constituted performances that used the speakers' appearances, gestures, tones of voice, and emotional appeals as much as their words to persuade the jury.
Today, all that remains of Attic forensic speeches from the fifth and fourth centuries BCE are written texts, but, as Peter A.
O'Connell convincingly demonstrates in this innovative book, a careful study of the speeches' rhetoric of seeing can bring their performative aspect to life. Offering new interpretations of a wide range of Athenian forensic speeches, including detailed discussions of Demosthenes' On the False Embassy, Aeschines' Against Ktesiphon, and Lysias' Against Andocides, O'Connell shows how litigants turned the jurors' scrutiny to their advantage by manipulating their sense of sight.
He analyzes how the litigants' words work together with their movements and physical appearance, how they exploit the Athenian preference for visual evidence through the language of seeing and showing, and how they plant images in their jurors' minds.
These findings, which draw on ancient rhetorical theories about performance, seeing, and knowledge as well as modern legal discourse analysis, deepen our understanding of Athenian notions of visuality.
They also uncover parallels among forensic, medical, sophistic, and historiographic discourses that reflect a shared concern with how listeners come to know what they have not seen.
Information
Format: Hardback
Pages: 304 pages
Publisher: University of Texas Press
Publication Date: 01/03/2017
Category: Literary theory
ISBN: 9781477311684
Free Home Delivery
on all orders
Pick up orders
from local bookshops