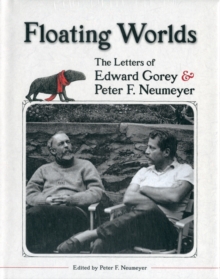 Floating Worlds the Letters of Edward Gorey and Peter F. Neumeyer A197
Hardback
Information
Format: Hardback
Pages: 256 pages
Publisher: Pomegranate Communications Inc,US
Publication Date: 15/06/2011
Category: Stationery items
ISBN: 9780764959479
Free Home Delivery
on all orders
Pick up orders
from local bookshops
Reviews
Showing 1 - 5 of 13 reviews.
Previous | Next
Review by MrsLee
16/06/2015
A touching and poignant collection of letters from a season of friendship between two men. Anyone who loves literature, art, film or linguistics will have "Aha" moments while reading it. This correspondence has been thoughtfully and beautifully laid out, with good footnotes and lovely photographs of the envelopes which Edward Gorey illustrated before sending to Peter F. Neumeyer. The book is a piece of art in itself. Thick pages, which are sewn together, clear photographs and nicely spaced type make it a joy to hold and read.As for the contents of the letters, much of the philosophical pondering, film, art and literature discussion is beyond me. I am not wired that way. My eyes have been opened to a whole world of authors, directors and artists whom I knew nothing about, but will enjoy exploring. I love Gorey now if for nothing more than his opinion of Salinger's works. What I truly enjoyed, were the free ramblings each of the men felt comfortable sharing with one another, the joy they had in discussing books and authors. It left me a little sad at the end that such a friendship could drop by the wayside, but then that is the way of friendships. Some are intense for a lifetime, and some are a lifeline to get one through a season.
Review by the_darling_copilots
16/06/2015
This is a beautiful volume, full of charm, playfulness and wit (as you would expect from these two). It added a lot to my understanding of Edward Gorey, who cultivated so much mystery about his life. This is a great book to dip in and out of, and does not require (or, for me, reward) sustained reading at one time.
Review by Rachael
16/06/2015
I love getting a letter in the mail. A real letter, I mean, not an electronic one, but a real one inside a real envelope with a real stamp. And then writing a letter in return, putting it inside an envelope and posting it, and anticipating that day when I open my mailbox to see the next little envelope inside with my name on it.I also love reading other people's letters, whether they're fictional or real. I knew I was in for a treat with Floating Worlds: The Letters of Edward Gorey & Peter F. Neumeyer. While I had not heard of Peter F. Neumeyer, I already was a fan of Edward Gorey's art & many of his books. A book of letters that also has to do with Edward Gorey? Yes, please!Floating Worlds begins in 1968, when the two men met and began corresponding. (On a personal note, I myself began that year too, and the age that Gorey was then is the age I am now. Probably oddly, this made the book for me more…I don't know… Interesting? Relevant?)Gorey had been contracted to illustrate a book Neumeyer had written, Donald and the… At their first meeting, Neumeyer accidentally dislocated Gorey's shoulder, and they bonded over Gorey's illustrations in a hospital waiting room. Their friendship was fueled by the letters and postcards that flew back and forth between them until the fall of 1969. The majority of their correspondence is represented in the book; sometimes the actual letter or artwork itself is reproduced. Also included are several photographs of the two writers, and samples of Gorey's art from the finished collaborations or other works.One of the most wonderful things about their correspondence was that Gorey illustrated the envelopes in which his letters were mailed; 38 of them are reproduced in Floating Worlds. They're little treasures, tiny jewels of art, populated by classic Gorey creatures and people. Among my favorites are two toward the end of the book: on one, a lavender blue baby is being carried off by a winged lizardy-dragony creature, and on the next, in response to Neumeyer's wife's comment that the baby was sad, is the baby, now sporting wings of its own, triumphing over the lizardy-dragony creature.Neumeyer saved Gorey's letters; and as he found out only a few years ago, Gorey saved Neumeyer's, and so, the lucky reader gets both sides of the correspondence. Often, it seems, when you read an epistolary book, it's one-sided. You get to read the one person's letters, but not the other's. Having both gives the reader the full conversation and a greater sense of intimacy. It certainly felt intimate to read this, from a letter Neumeyer wrote Gorey (referred to as Ted), from page 151:"Dear Ted, Your card, your yellow business letter and your good letter of the 17th just arrived. But I was thinking last night just before going to sleep that I would write you today anyway—and I would write you, I knew, something very simple and without the convention of the sputter. I wanted only to say this: it was more than good to hear your voice on the phone, and to hear you happy. Secondly—you said some months ago something about a change, turnover, flip in your life. I listened. But I did not say "me too," because it would not have been the truth. But now I want to say, "me too." So—me too. So, for nothing describable simply or short of a poem, thank you, Ted. You are a blessing. And in the knowledge of that, you should—I don't know what. But your letters, the potential of our reunions, your existence has made something of this world that (it) hadn't the possibility of before. Let it go at that!"While they also enjoyed telephone conversations and in-person visits, letters became an important component of the two men's friendship. These two erudite and intellectually curious people talked not only of their collaborations, but also about many other things, including the books they both loved reading and sending to each other. The letters describe minutiae of their lives, movies they've seen, thoughts about their friendship. As one man may have felt the first time he read the latest of the other's letters, and vice versa, I felt I was getting to know the writer just a little bit more with each letter.Neumeyer sets the stage for reading them in the introduction to this book, saying that much of what he knew of Gorey was learned from the letters, but cautions, "However, to suggest that Gorey "revealed" his inner self in these letters would be an overstatement. Just who Edward Gorey's inner self might have been remains highly conjectural."Still, any vague notion of who Gorey was, based only on his art and his books, is changed and enriched by reading the letters (and the same surely holds true for Neumeyer, although as I hadn't even heard of him before reading Floating Worlds, I had no preconceived notions about him). Gorey, in these letters, is thoughtful, kind, and often laugh-out-loud funny. Although some of what they wrote about seems to me to be the sort of insider "you had to be there" kind of thing, there were also bits I found myself nodding along with in recognition, such as this, from page 81:"I just got a rather nasty shock. In looking for something or other I came across the fact that one of my cats is about to be nine years old, and that another of them will shortly thereafter be eight; I have been laboring under the delusion that they were about five and six. And yesterday I happened to notice in the mirror that while I have long since grown used to my beard being very grey indeed, I was not prepared to discover that my eyebrows are becoming noticeably shaggy. I feel the tomb is just around the corner. And there are all these books I haven't read yet, even if I am simultaneously reading at least twenty…"I think that if I had already read Donald and the… and the other books the two men collaborated on, I might have had a deeper appreciation and/or understanding when reading about these works' beginnings in these letters. However, prior reading is certainly not necessary and I was able to enjoy reading the letters without already having read the final results. Of course, I now want to get my hands on the books that these two collaborated on and read them, and then read Floating Worlds again.My only quibble is that I found myself wishing that a different font had been used for each writer; letters from Gorey in font A and letters from Neumeyer in font B. It would have been easier to tell at a glance who was writing, and also, in my opinion, would have given each letter more of an individual "voice". But this is just my own personal wish and not truly an impediment to enjoying this book.The production values for Floating Worlds, published by Pomegranate, are very high. The book itself was designed with great care and is made with weighty, high-quality, delicious-smelling paper. This is a book that was made to look beautiful and last.
Review by Kellswitch
16/06/2015
I was a little leery at first about just reading letters between two people, I wasn't sure how interesting it would be as I've never read a book like this before but I really found myself engaged and enchanted by the collection here.The topics varied from work and day to day life, books, movies and philosophy but I found that even simplest letter could give a fascinating insights into these author's lives and their shared world. For me these letters and little drawings and doodles give much more insight into who the authors are than any deliberately written biography and I found myself going back and skimming and rereading some of them randomly when I have a few extra moments and want something to read but not get fully engaged in.The physical quality of this book is amazing, the paper is thick and glossy, the cover and binding are top notch as well and I loved the layout between the letters, envelopes and drawings, it has an organic and whimsical feel to it. This is my first Pomegranate book and I doubt it will be my last if this is the level of overall quality I can expect from them.
Review by llusby23
16/06/2015
As excited as I (always) am to receive free books through the LibraryThing Early Reviewers program, I am ecstatic when I am lucky enough to snag whatever is newest from Pomegranate Books (especially when those books are Edward Gorey written/illustrated). I was particularly happy to have won a copy of Floating Worlds: The Letters of Edward Gorey & Peter F. Neumeyer.This book offers a privileged glimpse into both the writing and illustrating process, and the personal relationship between two extremely witty men who hold each other in the highest esteem. I enjoyed reading about their collaborative work in creating the Donald books and learning how much each influenced the other's parts in the projects. The juxtaposition of their whimsical ideas, words, and drawings with the humdrum realities of their everyday lives is captivating and comforting. I was glad to have the inclusion of facsimiles of a few of the wonderfully rambling letters and postcards, especially the fabulous envelopes that Gorey illustrated before mailing off to his friend. And the stoej-gnpf, that hybrid creature on the front cover that Gorey decided was part himself and part his friend, and became a secret symbol between them of their like-mindedness and collaborative magic. But how does one review the personal correspondence between two friends, who just happen to be writers and artists? One doesn't. I have been merely eavesdropping, but the things I overheard were fascinating. I only wonder why they ever stopped. Thank you so much, Mr. Neumeyer, for sharing these letters with the rest of us.