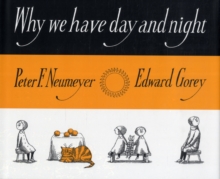 Why We Have Day and Night A196
Hardback
Information
Format: Hardback
Pages: 36 pages
Publisher: Pomegranate Communications Inc,US
Publication Date: 15/03/2011
Category: General
ISBN: 9780764958861
Free Home Delivery
on all orders
Pick up orders
from local bookshops
Reviews
Showing 1 - 5 of 13 reviews.
Previous | Next
Review by quaintlittlehead
16/06/2015
This is a spectacularly weird little book; what else can one expect from a collaboration with Edward Gorey? I thought the first page of the story was just pre-title page art until I turned a leaf and realised we had begun. The text is so sparse, with just a line or two on each page. Much of the art is white on black. In the beginning, in spite of the clever imaginings of the child characters about why it might be dark (e.g. "Aren't we born yet?"), I was beginning to fear that the story would not live up to the images--it seemed to be going in a typical "Dick and Jane" direction, where the text exists for reading's sake and not for literature's. Then the oldest character interjects his scientific understanding, learned from his father, about why it really is dark. Suddenly, the book is an educational experience, facts with a well-drawn (and citrus) twist. And just when you think our characters are about to grasp the rotation of Earth in all its quotidian glory, they become children again and pull away with a final, fantastical idea about why it's dark "now." This is the kind of book you give your kids if you want them to understand science, appreciate imagination, and spot symbolism in art and literature--and who doesn't? Paying close attention to the almost invisible bits of white at the corners of early pages, and the significance of the colours throughout (I found it interesting to note that all the white pages have older, wiser adults on them) makes this a graphic as well as a literary feast. My only complaint is with the publication itself; while the book is phenomenally put together from cover to cover and a treat to hold and look at, the interior pages are glossy, and with so many of them being black, fingerprints are likely to show up easily, spoiling the beauty a little bit (especially if you actually set this book in the hands of children). Otherwise, I am even more excited about owning this book after having read it than I was when I found out I was getting a free review copy.
Review by paulkid
16/06/2015
This book starts out with a handful of kids and their cat who suddenly find themselves in the dark. The kids propose a few explanations of how their predicament descended on them... some are more plausible and sensical (squirrel + wire = blackout, we're still asleep) than others (not born yet, turned into snails (?), we're underwater). Then, one of the children recounts how his father once told him the basics of night and day, how the sun doesn't really go down but rather the earth turns on its axis. For about four pages there's a clear demonstration of this phenomenon using a flashlight, a bug, and an orange (these four pages are the strength of the book). Then the book continues with the bug burrowing into the orange and everything becoming "all...all...".My son (age 4) and I enjoyed this book to some degree, but I don't think it will make the oft-reread pile at our house. The silly explanations of why it is dark are somewhat entertaining, but the book does not make clear that the earth spinning-on-it-axis explanation is actually "why we have day and night". Also, it seems to me that the dark has descended rapidly for the children in the story, and thus is not due to nightfall, rather, I think the squirrel/wire or perhaps a blown-fuse explanation is more likely.The risk of writing a children's book review is that you can take it too seriously. So please take my review with that caveat. One strong point of the book are that it is silly, and the explanations of darkness are humorous. The best part is the orange/flashlight part. But these two points of the book are at odds with eachother, so be sure to ask your kids why they think the children in the story are in the dark, and don't be surprised if they give you a reason other than presented in the book.
Review by dchaikin
16/06/2015
This is a quick picture book for kids that happens to have wonderful Gorey illustrations and a very curious dialogue of four young characters who are trying to understand why it's dark. The dialogue is incomplete, and leaves my kids (4 & 6) in different states of confusion or annoyance. They insist on an ending, and will finish it themselves when I stop. I think it has them thinking, and it has me thinking too. Oh, and the book is gorgeous. Recommended.
Review by waitingtoderail
16/06/2015
This is a short kids book that has two things going for it - science, and the beautiful, yet simple, drawings of the wonderful Edward Gorey. What a wonderful way to introduce children to the realities of the universe. This will take a place of pride among my son's books. He's only 16 months, not quite really ready for this, but I'd say around the start of school-age would be a great time to introduce this book to your child, or to present as a gift. Bravo on reintroducing a new generation to this lost classic.
Review by yarb
16/06/2015
Gorey's art elevates any book to keeper status, and though the text here is not especially ambitious, it's still a lot of fun.Great twist at the end where the rational explanation for night and day, illustrated by a bug on a revolving orange, is subverted when the bug eats his way into the permanently dark interior of the orange - avoiding what would have been a safe but dull ending.Lovely production, too, with the glossy fingerprintable pages and playful font.