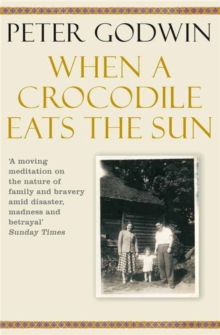 When a Crocodile Eats the Sun
Paperback
Description
Peter Godwin, an award-winning writer, is on assignment in Zululand when he is summoned by his mother to Zimbabwe, his birthplace.
His father is seriously ill; she fears he is dying. Godwin finds his country, once a post-colonial success story, descending into a vortex of violence and racial hatred.
His father recovers, but over the next few years Godwin travels regularly between his family life in Manhattan and the increasing chaos of Zimbabwe, with its rampant inflation and land seizures making famine a very real prospect.
It is against this backdrop that Godwin discovers a fifty-year-old family secret, one which changes everything he thought he knew about his father, and his own place in the world.
Peter Godwin's book combines vivid reportage, moving personal stories and revealing memoir, and traces his family's quest to belong in hostile lands - a quest that spans three continents and half a century. `Heartbreaking . . . Godwin plainly loves Africa, and he captures the baffling wayward contradictions of its people, their cruelties and unexpected kindnesses, their nobility of spirit in the face of appalling conditions, with humour and grace' Daily Mail `A wonderful book . . . beautifully written, packed with insight and free of rancour' Literary Review `A strong, heroic book . . . too vivid to bear and too central to our concerns to ignore' Edmund White
Information
Format: Paperback
Pages: 352 pages
Publisher: Pan Macmillan
Publication Date: 02/11/2007
Category: Autobiography: general
ISBN: 9780330448185
Free Home Delivery
on all orders
Pick up orders
from local bookshops
Reviews
Showing 1 - 3 of 3 reviews.
Review by emhromp2
16/06/2015
A brilliant book about Zimbabwe. I learnt so much about this country by reading this novel. Godwin stays fairly neutral throughout, it is not a political novel, it is literature at its best! Again, I loved this book. It was very difficult to get through, and you really need to be in the mood for a depressing story like this.
Review by Lidbud
16/06/2015
This is a complex story of the Godwin family and the author's relationship with his aging parents and in particular his father. The standard and safety of the lives of his parents are gradually being eroded by the rule of the Mugabe Government on whites in Zimbabwe. The parents hiding of the fathers polish nationality and bringing up the children in the belief that they were stiff upper lip british made this true story all the more interesting. The father had escaped the holocaust by being in England during the war and was Jewish but after the war had married and emigrated to Zimbabwe completely hiding the identity of his past to his children.This was only discovered during the research of the book and around the time of the fathers death.Compelling and interesting reading. Signed Mr Lidbud
Review by Popup-ch
16/06/2015
An autobiographical story of the authors father, and how his life in many ways mirrored that of his chosen country, Zimbabwe. Godwin discovers that his father was a Polish jew, fleeing before the Nazis, and finally settling in Zimbabwe. The book focuses on the time 1996-2004, when the country is experiencing hyperinflation, farm seizures, economic decline and corruption.Zimbabwe in the early 1990's was widely regarded as an example of 'decolonization done right', but since then Mugabe and his kleptocratic cronies have managed to convert the bread-basket of sub-Saharan Africa into an AIDS-ravished dustbin of corruption and famine. Godwin illustrates this through personal anecdotes and touching examples, without becoming overly emotional.