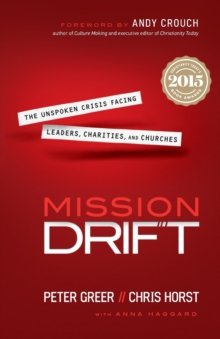 Mission Drift : The Unspoken Crisis Facing Leaders, Charities, and Churches
Paperback / softback
Description
A Christianity Today 2015 Book Award WinnerWithout careful attention, faith-based organizations drift from their founding mission.
It's that simple. It will happen. Why do so many organizations wander from their mission, while others remain Mission True?
Can drift be prevented? In Mission Drift, HOPE International executives Peter Greer and Chris Horst show how to determine whether your organization is in danger of drift, and they share the results of their research into Mission True and Mission Untrue organizations.
Even if your organization is on course, it's wise to look for ways to inoculate yourself against drift.
You'll discover what you can do to prevent drift or get back on track and how to protect what matters most. "We can't afford not to follow the lessons in this valuable book." --Richard Stearns, president, World Vision U.S. and author, The Hole in Our Gospel and Unfinished: Believing Is Only the Beginning"Mission Drift gives a clear message inspiring and challenging us to intentionally keep Christ at the center of all efforts." --David Green, founder and CEO, Hobby Lobby Stores, Inc. "This book is true-north wisdom for leaders." --Kelly Monroe Kullberg, founder, The Veritas Forum and author, Finding God Beyond Harvard
Free Home Delivery
on all orders
Pick up orders
from local bookshops