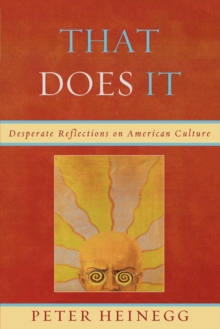 That Does It : Desperate Reflections on American Culture
Paperback / softback
Description
That Does It: Desperate Reflections on American Culture is an enfilade of critical attacks on the absurdities, stupidities, and crimes of present-day American life.
It's targets are dumb-but-dangerous politicians, infantile-but-invasive preachers, saccharine-but-poisonous cliches, mindless entertainment, spineless media, and a national lifestyle marked by manic consumption and extravagant wastefulness, narcissistic complacency, pseudo-patriotism, and the idiotic worship of more idols than you could throw a verbal IED at.
The book provides a handy checklist of ills, from the life threatening to the merely obnoxious, afflicting the American psyche and body politic, which it then proceeds to submerge in satirical acid.
This probably doomed assault on American cluelessness is recommended to all readers who have recently found themselves snorting indignantly at the nonsense dripping out of TV sets, car radios, talk shows, cineplexes, and White House news briefings.
Information
Format: Paperback / softback
Pages: 132 pages
Publisher: University Press of America
Publication Date: 15/10/2008
Category: Humour
ISBN: 9780761843931
Free Home Delivery
on all orders
Pick up orders
from local bookshops