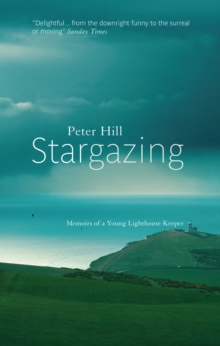 Stargazing : Memoirs of a Young Lighthouse Keeper
Paperback
Description
When Peter Hill, a student at Dundee College of Art, answered an advert in The Scotsman seeking lighthouse keepers, little did he imagine that within a month he would be living with three men he didn't know in a lighthouse on Pladda, a small remote island off the west coast of Scotland.
Hill was nineteen, it was 1973 and, with his head fed by Vietnam, Zappa, Kerouac, Vonnegut, Watergate and Coronation Street, he spent six months on various lighthouses, "keeping" with all manner of unusual and fascinating people.
Within thirty years this way of life was to have disappeared entirely.
The resulting book is a charming and beautifully written memoir that is not only a heartfelt lament for Hill's own youth and innocence but also for a simpler and more honest age.
Information
Format: Paperback
Pages: 336 pages
Publisher: Canongate Books Ltd
Publication Date: 01/05/2004
Category: Popular astronomy & space
ISBN: 9781841954998
Free Home Delivery
on all orders
Pick up orders
from local bookshops
Reviews
Showing 1 - 1 of 1 reviews.
Review by wandering_star
16/06/2015
My favourite thing that I learnt from this book is that lighthousekeepers tend to dream of the sea: "And then there were the dreams. Dreams that I still enjoy. Dreams of islands rising out of blue seas that reflected the golden setting sun. Dreams of gliding across those waters in a rowing boat with William Blake at the helm and Samuel Taylor Coleridge pulling up a lobster creel..."As well as being a beautiful fact, I think that says a lot about what happens to you when you are on an isolated rock, keeping the lighthouse going: the way that the emptiness and magnificence of the sea becomes such a key part of your consciousness. Well, that's the way Hill tells it, anyway. I found this a charming book. Hill starts off as a hippy art student, as opposed to routine and unthinking of people outside his generation as students generally are. But he quickly comes to realise that on the lighthouses, you can't manage without routine and without the companionship of your fellow keepers - however unlike you, and sometimes eccentric, they are. This gives this book a real heart - without this, it would still be an enjoyable collection of wacky stories and musings on reciting poetry to the open sea, but Hill's respect for the way of life and for his fellow keepers make it moving as well - and certainly made me regret that this way of life is no longer in existence.