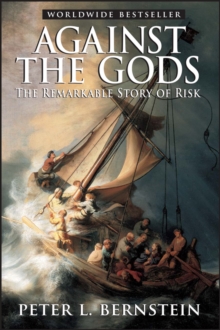 Against the Gods : The Remarkable Story of Risk
Paperback
Description
A Business Week, New York Times Business, and USA Today Bestseller "Ambitious and readable . . . an engaging introduction to the oddsmakers, whom Bernstein regards as true humanists helping to release mankind from the choke holds of superstition and fatalism." -The New York Times "An extraordinarily entertaining and informative book." -The Wall Street Journal "A lively panoramic book . . . Against the Gods sets up an ambitious premise and then delivers on it." -Business Week "Deserves to be, and surely will be, widely read." -The Economist "[A] challenging book, one that may change forever the way people think about the world." -Worth "No one else could have written a book of such central importance with so much charm and excitement." -Robert Heilbroner author, The Worldly Philosophers "With his wonderful knowledge of the history and current manifestations of risk, Peter Bernstein brings us Against the Gods.
Nothing like it will come out of the financial world this year or ever.
I speak carefully: no one should miss it." -John Kenneth Galbraith Professor of Economics Emeritus, Harvard University In this unique exploration of the role of risk in our society, Peter Bernstein argues that the notion of bringing risk under control is one of the central ideas that distinguishes modern times from the distant past.
Against the Gods chronicles the remarkable intellectual adventure that liberated humanity from oracles and soothsayers by means of the powerful tools of risk management that are available to us today. "An extremely readable history of risk." -Barron's "Fascinating . . . this challenging volume will help you understand the uncertainties that every investor must face." -Money "A singular achievement." -Times Literary Supplement "There's a growing market for savants who can render the recondite intelligibly-witness Stephen Jay Gould (natural history), Oliver Sacks (disease), Richard Dawkins (heredity), James Gleick (physics), Paul Krugman (economics)-and Bernstein would mingle well in their company." -The Australian
Information
Format: Paperback
Pages: 400 pages
Publisher: John Wiley & Sons Inc
Publication Date: 31/08/1998
Category: Philosophy
ISBN: 9780471295631
Other Formats
Hardback from £49.09
EPUB from £14.03
Free Home Delivery
on all orders
Pick up orders
from local bookshops
Reviews
Showing 1 - 5 of 6 reviews.
Previous | Next
Review by awilson
16/06/2015
History of mathmatics (numbers as we know them came from the Hindus, arithmetic from the Arabs), odds making, insurance, actuaries, and programmed stock trading. Fascinating if you care to work through his examples.
Review by mortensengarth
16/06/2015
crude understandings to mathematical clarity. focuses on basic statistics and math, however. Doesn't make it to linear regressions :(
Review by jpsnow
16/06/2015
A fine treatment of the evolution of our understanding of risk -- the discovery of probability, the addition of rigor through mathematics, the application to economics, the theory of games, the psychology of "prospect theory," sunk costs, compartmental mental accounting, and the modern status. Bernstein covers the theories of rational expectations, chaos, neural networks, and ties them all together with interesting examples and historical incidents. He even gave me a new respect for Keynes in the process. Predominant themes: we vary in our rational decision-making ability, especially with regard to risk; the forecast of any market can be wrong because of the development of accurate models by others; regression to the mean, et al. The one gap in coverage here is that the Bayesian approach was barely broached.
Review by thinkle
16/06/2015
A slightly dated, but well-researched and concise treatment of the history of risk from ancient Greece up to the 1990s, with examples of risk management/mismanagement. The author does a good job of humanizing what could be a dismally dull subject by sketching the personalities that pushed the sciences of probability, statistics and risk management forward. Recommended reading for economics and finance students, financial professionals or interested laypersons.
Review by tintinintibet
16/06/2015
Turns into descriptive papers on various topics, without much keeping the chapters together or deriving lessons/conclusions from the story. I would struggle for YEARS to get past page 100 or so -- I think because I got tired of reading a series of case studies about historical personas. I wanted something with more linear continuity.