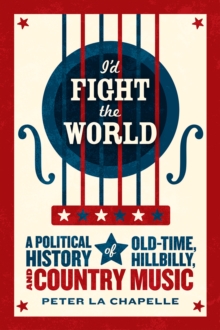 I'd Fight the World : A Political History of Old-Time, Hillbilly, and Country Music
Paperback / softback
Description
Celebrity has long been tied to political aspirations in American history. Decades before the United States had a president from the realm of reality TV or the movies, we had scores of politicians with strong connections to the world of country music.
Performers of so-called old-time, hillbilly, and country music not only used their popularity to attract votes, but also became major supporters of nonmusical politicians.
Tracing the long intertwining histories of country music and US politics gives us more than a sideways history of American populism and conservatism; it gives us a new view of the complexities of the American political character. In I'd Fight the World Peter La Chapelle traces the bonds between country music and politics from the rise of amateur fiddler-politicians-such as populist firebrand Tom Watson and Tennessee governors Bob and Alf Taylor in the nineteenth century-to twentieth-century figures like Pappy O'Daniel, Roy Acuff, George C.
Wallace, Al Gore, Sr., and Richard Nixon, who all played or harnessed music for electoral success.
La Chapelle brings the story to the present with examinations of the campaigns of musician-candidates like Kinky Friedman and Rob Quist, as well as recent political endorsements from figures like Hank Williams, Jr., Ralph Stanley, and Willie Nelson.
The performers and politicians in I'd Fight the World both ride with and push against the prevailing cultural winds, with some acting as advocates for the rural poor and dispossessed and others giving voice to religious and racially-based anger.
La Chapelle convincingly argues that country music campaigning has not only helped elect more celebrities than any other sector of entertainment but has profoundly influenced the American political landscape itself.
These musicians and politicians walked the line between exploiting their celebrity and righteously taking on the world.
Information
Format: Paperback / softback
Pages: 336 pages
Publisher: The University of Chicago Press
Publication Date: 17/09/2019
Category: Music reviews & criticism
ISBN: 9780226923000
Free Home Delivery
on all orders
Pick up orders
from local bookshops
Also by Peter La Chapelle