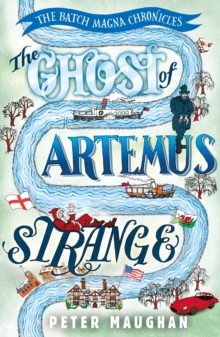 The Ghost of Artemus Strange
Paperback / softback
Description
Welcome to Batch Magna, a place where anything might happen. And often does... Sir Humphrey has offered to play Father Christmas at the local hospital, but disaster strikes when he realises he won't be able to buy the sack of toys he'd promised the children. Rupert, a gentleman of the road, is found asleep in an old car in the Hall's coach house.
He is scrubbed up and given a room at the Hall, where two guests are already staying: a businessman and his rather young female companion.
When money goes missing from their bedroom, Rupert is accused, and Miss Wyndham, the village's amateur sleuth, decides to investigate the matter. Meanwhile, local author Phineas Cook has come up with the idea of a resident ghost at the Hall to attract paying guests.
All goes smoothly until the ghostly actors spend too long in the pub one evening and their performance descends into sword-wielding chaos. As always in Batch Magna, events somehow manage to turn out all right in the end - but in the most unexpected manner... What readers are saying about The Batch Magna Chronicles series:"An enchanting mixture of The Wind in The Willows and The Darling Buds of May.
An England that doesn't exist but surely should.""Reading this book was like sitting down for a nice long chat with an old friend.
I loved reading the Welsh village descriptions; it felt like coming home. ... I eagerly await the next instalment of the Batch Magna crew!""I first got this book out of the local library, and then brought a copy - I wanted to read it again and again.
It's a treasure, a smashing read, funny and beautifully written.""These books are such fun, darkly comic and full of great characters. ... Batch Magna is a place I would love to find, and the river sounds idyllic.""Hurrah for Batch Magna, Humphrey and friends." "I loved this book.
It's lyrical and very amusing, with all the charm of an old Ealing comedy. ... More please Mr Maughan!""What an amazing writer! I have never found any descriptive writing that has gripped me so much before.""A thoroughly enjoyable read. ... Is there another Batch Magna book on the way, please?
Such a wonderfully descriptive bucolic and warmly 'human' story with echoes of the Darling Buds of May.""A wonderful, funny, well-crafted escape from everyday life.
If you love writing that absorbs you into the landscape you will love this book.
Every sense was satisfied with the author's beautiful descriptions of the Marches.
Escape from the tarmac, concrete and relentlessness of life with this stunning book.
Thank you Mr Maughan.""I absolutely loved this book and all the characters became so real to me, I just couldn't put it down."
Information
Format: Paperback / softback
Pages: 320 pages
Publisher: Prelude Books
Publication Date: 22/08/2019
ISBN: 9781788421355
Free Home Delivery
on all orders
Pick up orders
from local bookshops
Also in the The Batch Magna Chronicles series | View all