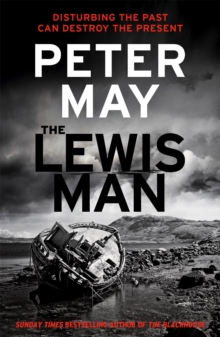 Description
LOVED THE BLACKHOUSE? THE TRILOGY CONTINUES WITH THE LEWIS MAN: AS FIN MACLEOD RETURNS IN AN INGENIOUS CRIME THRILLER ABOUT MEMORY AND MURDER.A MAN WITH NO NAMEAn unidentified corpse is recovered from a Lewis peat bog; the only clue to its identity being a DNA sibling match to a local farmer.A MAN WITH NO MEMORYBut this islander, Tormod Macdonald - now an elderly man suffering from dementia - has always claimed to be an only child.A MAN WITH NO CHOICEWhen Tormod's family approach Fin Macleod for help, Fin feels duty-bound to solve the mystery.
Information
Format: Paperback
Pages: 448 pages
Publisher: Quercus Publishing
Publication Date: 30/08/2012
Category: Crime & mystery
ISBN: 9780857382221
Free Home Delivery
on all orders
Pick up orders
from local bookshops
Reviews
Showing 1 - 5 of 9 reviews.
Previous | Next
Review by cathyskye
16/06/2015
First Line: On this storm-lashed island three hours off the north-west coast of Scotland, what little soil exists gives the people their food and their heat. It also takes their dead. And very occasionally, as today, gives one up.An unidentified body has been discovered in a peat bog on the Isle of Lewis in the Outer Hebrides of Scotland. Originally thought to be an ancient burial, once examined, the body proves to have been buried in much more recent times. The only clue to its identity is a DNA sibling match to a local farmer. There's going to be a problem in dealing with the farmer because not only is Tormod Macdonald an old man suffering from dementia, he's also always claimed to be an only child.Fin Macleod, recently retired from the Edinburgh police force, has returned to the island of his childhood to make a new life for himself. When he's approached by Tormod's family for help, he knows he must do everything he can to solve the mystery of the Lewis Man.Having fallen under the spell of the first book in Peter May's Lewis trilogy, The Blackhouse, I literally snatched a copy of this book off the shelf when I spied it at my favorite local bookstore. Sometimes when I have such a strong positive reaction to a book I can be rather hesitant to pick up the second, fearing that it won't "live up" to the first. For some reason I didn't feel any such hesitance this time, and I was rewarded with a book that's even more powerful.To have a mystery rely upon a character suffering from dementia could be a very risky proposition, but Peter May handles it brilliantly. Much is learned about each character in how they relate to Tormod: from his wife, who's kicked him out of the house, to his daughter, who loves her father but doesn't quite know how to cope, to Fin, whose grace and patience and compassion with the old man made me want to cry. While Fin tries to make sense of what little information he can get from Tormod, Tormod's childhood is gradually revealed to the reader. Over the years there have been so many lies and secrets that the ending-- and the way Fin arrives at it-- should come as quite a surprise.And-- as always in this trilogy-- the Isle of Lewis makes its presence felt in the lyrical beauty of its rugged landscape and in the strength of its people. The Lewis Man is a feast for the eye and the heart and the mind. It is not to be missed.
Review by Cathymacleod
16/06/2015
BlisteringSet on the Isle of Lewis, this second of a crime trilogy is a pageturner. The author uses flashbacks to childhood to plant a few clues and spur the plot along. There is a blistering finish. Wow! Now I'm looking forward to Number Three.Strange to say, I was not taken by Peter May's mysteries located in China. And his French titles, I thought, are overloaded with gourmet guff. But that's just me. The Lewis Trilogy is a must read for crime fiction enthusiasts.
Review by lexieconyngham
16/06/2015
Another tartan noir from this evocative writer - dark histories of characters we met in the first book. The noir is not relentless: many of the characters are sympathetic and what happens to them is not always terrible! A very enjoyable read.
Review by nomadreader
16/06/2015
The Lewis Man is the second novel in Peter May's Lewis Trilogy. The first in the trilogy, The Blackhouse, was a five-star read. I loved it so much I ordered the final two volumes from the UK because they don't have a US release date yet. Peter May's writing is beautifully fluid and his characters are richly developed. Once again he manages to combine a compelling police procedural with the continued exploration of the inhabitants of the Isle of Lewis, both their past and their present.
Review by kategibson5
16/06/2015
In book two of the trilogy Finn's character starts to really come alive. The mystery of the body in the bog is intriguing and cracks along at a good pace, with twists and turns throughout. The voice of the narrator changes with each chapter, which maintains one's interest and brings a slightly different dimension to the story as it progresses.
Also in the The Lewis Trilogy series | View all