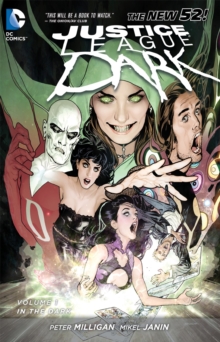 Justice League Dark Volume 1: In the Dark TP
Paperback
Description
The Enchantress has unleashed a wave of chaos across the globe!
Shade theChanging Man, Madame Xanadu, Deadman, Zatanna, Mindwarp, and John Constantinemay be our only hope - but how can we trust beings whose very presencemakes most people break out in a cold sweat?Collecting Justice League Dark #1-6.
Information
Format: Paperback
Pages: 144 pages
Publisher: DC Comics
Publication Date: 01/10/2012
Category: Superheroes
ISBN: 9781401237042
Free Home Delivery
on all orders
Pick up orders
from local bookshops
Reviews
Showing 1 - 5 of 10 reviews.
Previous | Next
Review by DanieXJ
16/06/2015
So, this team could also be called the Justice League: Magic-ish, or 'A Justice League for those things that can't be fought with force and technology'. This Justice League is definitely more fantasy and less science fiction/super heroes.It's Deadman and Madam Xanadu, Changing Man, John Constantine (grows on my like a fungus), Enchantress (sort of), Mind Warp, and my favorite of the bunch, Zatanna. Who does seem a bit more wild and crazy in this her New 52 incarnation. Xanadu apparently sees a really, really bad future and so tries to make things that bring together this team of guys and gals who are all on the line of good and bad, the powered who are just a bit unstable.The art wasn't awesome, but some of it I liked. Also Superman, Wonder Woman, Cyborg, even Dove made guest appearances and that was cool. It was an interesting title, but, I would like to see them actually face a 'bad guy' instead of their 'inner demons' or each other or whatever.
Review by slimy07
16/06/2015
Started off enjoying it, but got repetitive and a little confusing. Maybe volume two will be better?
Review by ElizaJane
16/06/2015
So here I am coming into this one totally blind. I haven't a clue who any of these (superheroes?) are, nor am I sure I want paranormal superheroes in the first place. But since I'm reading JL, I figured I'd give it a try at least and OMG! I absolutely loved it! These guys are fantastic. Why have I never heard of them? K, I love Deadman the best, just totally awesome and I couldn't believe when his girlfriend was Dove! What was she doing here? I'm not sure about Xanadu; she seems a bit cagey and might not be on the up and up. John Constantine, wow! and Shade are cool characters. Zatanna is OK and we didn't really get to know Mindwarp much yet. Andrew Bennett doesn't show up till the end. The story was just great, page-turner, freaky, just a little gruesome. Yeah, I really like these guys. The art on the other hand didn't wow me, just OK. Can not wait to read Vol. 2! Plus I have to figure out if/which of these guys has their own series!
Review by kivarson
16/06/2015
The New 52 reboot by DC Comics brings the like of John Constantine Hellblazer, Zatanna, Deadman and Shade the Changing Man together, reluctantly teaming up to to fight the out of her mind Enchantress.Favorite part was seeing Batman, intentionally entangled in magical vines by Zatanna to prevent him from leaving the space station, still trying to bark out orders at her. As if he had any control over the situation.
Review by fighterofevil
16/06/2015
it was ok. sometimes new series takes time to really get going. maybe it will find better footing as it goes on. it's a shame it wasn't awesome right out of the gate since i do enjoy many of the characters in the book separately.