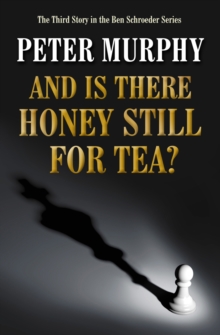 And is There Honey Still for Tea?
Paperback
Information
Format: Paperback
Pages: 352 pages
Publisher: Oldcastle Books Ltd
Publication Date: 23/04/2015
Category: Political / legal thriller
ISBN: 9781843444015
Free Home Delivery
on all orders
Pick up orders
from local bookshops
Reviews
Showing 1 - 3 of 3 reviews.
Review by atticusfinch1048
27/08/2015
And Is There Honey Still For Tea? An Acquired TastePeter Murphy's Ben Schroeder series is back with And Is There Honey Still For Tea? a legal thriller set in what were worrying times during the Cold War. The title is also a clever take of a line in Rupert Brooke's poem The Old Vicarage, Grantchester, as well as Trinity College Cambridge being his Alma Mata, which once you have read the book ties the story together, while gently reminding the reader of the Cambridge Spy Ring and all those associated with it and the crimes they committed.It is 1965 and Sir James Digby QC is a respected member of the Bar a successful member of the Chancery Division of the High Courts of Justice, a chess player and journalist. He is about to take an American Assistant Professor to court for libel, as been called a Soviet Spy of long standing by Francis Hollander. As a member of the establishment Digby must fight this libel and have his good name restored.When Hollander comes to London to fight the libel he arrives with very little evidence and is hoping that Mi6 may help his cause in Court. The question becomes does Mi6 have the evidence that will help Hollander or will it exonerate Digby, who had served the Intelligence Services during the war.Throughout the book we see Sir James Digby's life explained to us in depth from childhood, to Cambridge, marriage, the estate, his legal work, and chess. While at the same time we see the legal conferences take place with Ben Schroeder as the junior counsel defending Digby trying to find how the defence team will play out everything in court.At the same time we Schroeder has been summoned to answer to the Middle Temple on a disciplinary matter that may cost him his career. During the course of the defence he also has to put his whole career on the line to find out the truth so that he can honestly give clear and honest legal advice.The novel is set to the background of the Cold War and the defections of the Cambridge Spy ring whom were Apostles at Trinity and also friends and associates of Digby, who make various appearances in the book.This is an interesting and read not quite the thriller it promises to be as it is rather gentle, but it is still an enjoyable read.
Review by jtck121166
27/08/2015
There are three strands to the narrative: the courtroom drama of a libel action brought against a journalist who has exposed a 5th man (after Burgess, Maclean, Philby and Blunt); the alleged traitor's diary (presented to the reader in its own typeface: why?); a melodrama surrounding young lawyers battling against the outmoded codes of conduct governing their profession in 1965.None of these is without merit, but none is done especially well: partly because it's already been written several (if not many) times already; and partly because although Peter Murphy clearly knows his legal procedure and has read his contemporary newspapers, he can't write for toffee: he has a tin ear for dialogue, he bolts on exposition as if he's writing a dissertation rather than a novel, the simplistic social comment is too obvious for words, and the anachronisms that litter the pages are so many that before long they cease to jar, they simply bore.I did turn the pages, and I did finish the book, but I felt I was struggling against the author to achieve this, rather than being carried along by him.
Review by mexico24
27/08/2015
This is a legal thriller set in the cold war-Sir James Digby QC is an establishment figure who employs Ben Shroeder to sue Hollander, an American journalist for libel Hollander has published a slanderous article accusing the QC of spying for the Russians He has to fight this to regain the good name that he had.The question I asked was it coincidence that James Digby was a member of the exclusive Cambridge club alongside Sir Anthony Blunt and Guy Burgess? The author cleverly delves into their relationships.Some reviews state that if the reader does not have a legal background they will not understand the storyline – I beg to differ. I found the legal background fascinating and comprehensible. As a fan of John Grisham I found this a riveting read.This was published on the 23 April 2015.