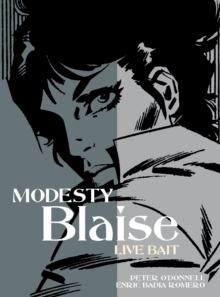 Modesty Blaise - Live Bait
Paperback
Description
This title features classic stories by popular British crime writer Peter O'Donnell.
The tag-team of Modesty Blaise and Willie Garvin battle with the darkest elements of the underworld once again, beautifully illustrated by Enric Badia Romero!
With story introductions taking the reader behind the scenes of Modesty's world, plus a tribute to Peter O'Donnell, this outstanding collection is not to be missed.
Information
Format: Paperback
Pages: 104 pages
Publisher: Titan Books Ltd
Publication Date: 14/02/2012
Category: Comics and Graphic Novels
ISBN: 9780857686688
Free Home Delivery
on all orders
Pick up orders
from local bookshops
Reviews
Showing 1 - 1 of 1 reviews.
Review by jjmcgaffey
16/06/2015
Three good stories. The front essay is a little odd - interesting, as it discusses all the places where circuses show up in the Modesty stories (strips and novels both), but as there's no circus in any of the stories in this book it seems an odd choice. The first story is Samantha and the Cherub - I absolutely love Sam. The way she handles her brother is great. Her determination to help and miscalculation are perfect, as is Willie's reaction afterward. She's wonderful and I'm glad to hear (from the foreword) that she will show up again later. The story itself is relatively lightweight - a hostage-taking that, fortunately for the good guys, goes seriously wrong just because Modesty and Willie get involved. Though there are several moments of real danger, to Sam and to Modesty and Willie. The second story is Milord, which is thoroughly nasty. Modesty and Willie run into two ends of a nasty variety of the vice trade - "blue" films made with kidnapped girls. There's nothing explicit shown, but it gets quite violent - once Modesty and Willie have defeated the villains and freed their victims, the latter eliminate the former. And Willie at the time and Modesty afterward agree it was appropriate. They're quite thoroughly nasty - but it seems a bit of a harsh judgement for Modesty and Willie. The third story is also pretty grim - a kidnapping, echoing another from the Network days, with the primary aim being not ransom but revenge against Modesty. Modesty and Willie use some serious tricks to put the villains off-guard, though they don't work _quite_ long enough, and Modesty ends up fighting for her life in a pretty close to hopeless situation. An unexpected ally keeps her alive and they all get away, though the experience permanently damages an old friendship. Three very strong stories, with relatively little of the usual funny bits. Modesty sails through relatively lightly - she's physically endangered several times, but that's nothing. Willie is put under real stress in all three stories - fear for Sam in the first, knocking Modesty out in the second because of what's been done to the women, and fear for Modesty - and leaving her behind, anyway - in the third. He needs a vacation. I hope there's a funny one coming up.