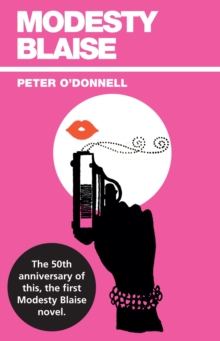 Information
Format: Paperback
Pages: 224 pages
Publisher: Souvenir Press Ltd
Publication Date: 11/08/2005
Category: Thriller / suspense
ISBN: 9780285637283
Free Home Delivery
on all orders
Pick up orders
from local bookshops
Reviews
Showing 1 - 5 of 6 reviews.
Previous | Next
Review by wyvernfriend
16/06/2015
I remember reading this years ago and a chance discovery of a new copy in Waterstones for dirt cheap made me buy it and read it again. Modesty Blaise is one of the first female kick-ass heros in English fiction. She started off as a cartoon character in a regular strip and this is written by the same guy who wrote the strips so is canon. She used to be on the other side of the law and retired young with a fortune behind her, the problem is that she's used to adventure and now she wants to do something that stirs the blood. When a government agency looks for her assistance she leaps at the chance. More for her sake than theirs.Once you get over the fact that it was written in the 60's and has very dated bits in it it's a romp of a book. Great fun characters and the situations are pure James Bond.
Review by othersam
16/06/2015
To those in the know she strides the world of thrillers like a colossus. Bolder than Buffy, tougher than Trinity, yet written long enough ago to be either character's /grandmother/, it's ex-criminal mastermind MODESTY BLAISE who holds the crown as the best female action hero ever, and there's still no one else to touch her. Only a dire film adaption back in the Sixties stopped her becoming as famous as her nearest equivalent, James Bond: for my money, these books are BETTER. You like campily wicked villains? exotic international settings? gadgets, weapons and insanely cool fight-scenes? These books have it all, and all of it informed with a warmth, style, and suave good humour that make every one of Peter O'Donnell's books a treat to read. Souvenir Press in the UK only bring out two of these a year: collectors pay mad prices for the rarer ones. The books are self-contained stories, and (though Cobra Trap is the last one, for reasons that will become obvious!) they don't need to be read in any particular order. My advice? Keep an eye out, and grab any you can!
Review by Zare
16/06/2015
I've followed adventures of Modesty and Willie for almost 20 years now but always in the form of comics (drawn by the great Holdaway and later by Romero).So I was surprised when I found out that there were novels about Modesty Blaise. At first I was afraid that the quality will be lower (movies were true let-downs) but boy was I wrong.This is the first novel in the series and what a novel if I may say. I can only say I wholeheartedly recommend it.
Review by veracite
16/06/2015
My copy of this book has no ISBN. It is a Pan paperback, published in 1966, worn, dogeared and the pages quite yellow. The cover is illustrated with stills from the Monica Vitti movie. The price on the back says <em>Australia 6'</em>.<br/>___<br/><br/>I've read all the books in this series except the last one. This is the first and, while not the best, certainly a fabulous adventure.
Review by ethel55
16/06/2015
So, Mad Men couture meets MI-6? From the mandarin collars, three quarter length furs and jumpers, Modesty Blaise seems to be very comfortably well off after her retirement from The Network she created. She's called on by the Brits for help foiling a heist and brings her former first lieutenant, Willie Garvin, in on the job. Although dated in language, I liked the book and was reminded of other espionage stories of that era, by authors like LeCarre or MacInnes. I think to say that Modesty is a female James Bond does the book a little injustice, as she comes from a darker place, and being her first caper, we don't really know if her connection with the Brits will continue.