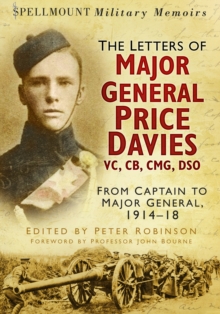 The Letters of Major General Price Davies VC, CB, CMG, DSO : From Captain to Major General, 1914-18
Paperback / softback
Description
The new series of Spellmount Military Memoirs provides rare and sought-after texts for the collector of classic historical works, together with rigorously selected personal narratives never before in print - destined to become classics in their own right. Llewelyn Alberic Emilius Price-Davies was awarded the Victoria Cross when serving with the King's Royal Rifle Corps during the Second Boer War.
He went on to serve as Divisional Corps liasion officer in 1914-15, his correspondence offers a rare insight into the changing face of the British Army at this time.
In 1916 he took over the 113th Brigade, in a New Army Division 38th (Welsh).
The first major test was on the Somme at Mametz Wood, where the divisional commander was sacked.
He describes this famous fight and eventual capture of the wood in dramatic detail.
Once again in the thick of the fighting at Pilckem Ridge in 1917 on the first day of Third Ypres, his letters show the importance of this battle's success.
In 1918 he travelled to Italy, where his diaries reveal for the first time how the Allied Command functioned in this theatre.
His constant correspondence with his brother-in-law Henry Wilson, the C.I.G.S., is a unique insight into British Army High Command and this legendary Field Marshal.
This rare collection of letters offers a broad and detailed insight into the First World War that will fascinate any enthusiast.
Information
Format: Paperback / softback
Pages: 256 pages
Publisher: The History Press Ltd
Publication Date: 01/01/2013
ISBN: 9780752487366
Free Home Delivery
on all orders
Pick up orders
from local bookshops