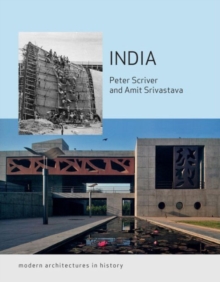 India : Modern Architectures in History
Paperback / softback
Description
'India' is a word that invokes a host of cliches: a timeless civilization of living traditions, great spiritual wisdom and artistic riches; a subcontinent of astonishingly diverse yet harmonious regional, religious and linguistic differences; a crucible of cultural synthesis.
The idea of 'Modern India' invokes rather more equivocal cliches: a world of contrasts and contradictions, rich and poor, extravagance and destitution, space-age know-how but medieval means.
The role that modern architecture and planning played in the early nation-building efforts of India, following its independence in 1947, has been widely regarded as an archetype of the internationalization of modernism in the mid-twentieth century, exemplified by the constructions of modernist architects such as Le Corbusier and Louis Kahn.
Yet the experience of modernity in the architectural history of India is a much richer and more expansive story.
India shows how the nation's architecture has reflected and embodied dramatic shifts in Indian society and culture over the course of the twentieth century.It explores how Indian architectural modernity began, with the rethinking of design practices under colonial patronage in the early twentieth century, which directly challenged previous building traditions. This is the first book to examine both colonial and the postcolonial aspects in comparable depth, and the authors draw on a broad range of primary sources, including private papers and photographic collections, and the extensive records of the Indian Public Works Department system.
This critical reinterpretation of India's key role in the history of modern architecture is essential reading for all students and scholars of architecture, as well as all those interested in the story of global modernism.
Information
Format: Paperback / softback
Pages: 304 pages, 200
Publisher: Reaktion Books
Publication Date: 14/10/2015
Category: History of architecture
ISBN: 9781780234373
Also in the Modern Architectures in History series | View all