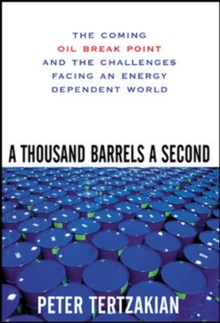 A Thousand Barrels a Second: The Coming Oil Break Point and the Challenges Facing an Energy Dependent World
Hardback
Description
In 2006, world oil consumption will exceed onethousand barrels per second.
The news marks animportant change that will have a far-reachingimpact on world economies, investments, and businessprofitability. In A Thousand Barrels a Second, Chief EnergyEconomist of ARC Financial Peter Tertzakianexamines the future of oil andoffers insights into what it will taketo rebalance our energy needs and seize newopportunities.
He answers the topquestions asked by business leaders, policy makers,investors, and concerned citizens as we approach the coming break point:Are today's high oil and gas pricespart of a routine business cycle, or arethere more profound forces at play?Are hybrid vehicles our only solutionagainst high gasoline prices?Is China's growing thirst for energysustainable?Which government policies work andwhich do not?Will nuclear power and coal save theday-again?Tertzakian also offers a realistic, informed lookinto the future of our energy supply chainsand how our consumption patterns may evolve,revealing how governments, businesses, and evenindividuals can meet the coming challenges withbetter solutions and innovations.
Information
Format: Hardback
Pages: 240 pages
Publisher: McGraw-Hill Education - Europe
Publication Date: 01/02/2006
Category: Business & management
ISBN: 9780071468749
Other Formats
Paperback / softback from £16.19
PDF from £33.60
Free Home Delivery
on all orders
Pick up orders
from local bookshops