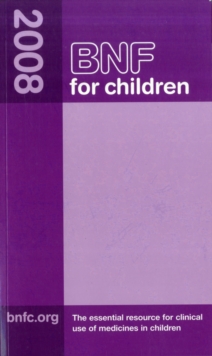 BNF for Children (BNFC) 2008
Paperback
Description
This book if a leading source of paediatric drug information.Compiled with the advice of clinical experts, this book provides essential information for all healthcare professionals involved in the prescribing, dispensing, monitoring & administration of medicines to children.
It encourages the safe, effective and appropriate use of medicines in the management of childhood conditions.Updated in print every twelve months, the BNFC reflects current best practice, as well as legal and professional guidelines relating to the use of medicines.The BNF is also available online as part of Medicines Complete, on PDA and on also CD-ROM for intranets.70 per cent of healthcare professionals have become more aware of suitable medicines & treatments as a result of using BNFC.Whereas the 'standard' BNF deals with the use of medicines for individuals of all ages, BNFC is able to focus specifically on the use of medicines in children.
This is important because children respond to ill health and drug treatment in a different way to adults.
BNFC deals with the drug management of childhood conditions more extensively. Infantile spasms, acute asthma, pulmonary hypertension, congenital metabolic disorders, and paediatric emergencies are just a few examples of this.
BNFC covers the drug treatment of rare childhood diseases such as type 2 diabetes whose incidence is increasing.
BNFC provides more information on unlicensed use of medicines ranging from fluoxetine for childhood depression to levamisole for nephrotic syndrome.
BNFC includes more guidance on specialist paediatric interventions, ranging from caffeine for neonatal apnoea to intravenous ibuprofen for closure of ductus arteriosus.BNFC includes details of those medicines that are used in children in a different way to adults.
While nitrazepam may be used for infantile spasms in children, it is used as a hypnotic in adults.
Administering medicines to children is a challenge in itself and so BNFC provides more practical advice on this.
BNFC provides more space for clearer and more comprehensive presentation of paediatric doses including neonatal doses and makes special reference to the cautions, contra-indications, side-effects, and drug interactions of medicines used in children. BNFC includes algorithms for acute paediatric life support and nomograms for calculating body surface area.
BNFC includes details of unlicensed medicines that can be imported, manufactured by 'special-order', or prepared extemporaneously.
BNFC provides information on the drug management of conditions that are relevant to children.
Parkinson's disease and dementia, for example, are dealt with by the BNF.
Information
Format: Paperback
Pages: 944 pages
Publisher: Pharmaceutical Press
Publication Date: 03/07/2008
Category: Paediatric medicine
ISBN: 9780853697800
Free Home Delivery
on all orders
Pick up orders
from local bookshops
Also in the BNF for Children series