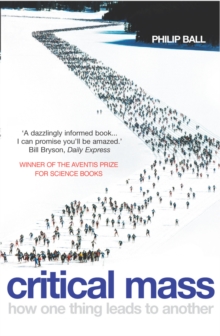 Description
Is there a 'physics of society'? Philip Ball's investigation into human nature ranges from Hobbes and Adam Smith to modern work on traffic flow and market trading, across economics, sociology and psychology.
Ball shows how much of human behaviour we can understand when we cease trying to predict and analyse the behaviour of individuals and look to the impact of hundreds, thousands or millions of individual human decisions, in circumstances in which human beings both co-operate and conflict, when their aggregate behaviour is constructive and when it is destructive.
By perhaps Britain's leading young science writer, this is a deeply thought-provoking book, causing us to examine our own behaviour, whether in buying the new Harry Potter book, voting for a particular party or responding to the lures of advertisers.
Free Home Delivery
on all orders
Pick up orders
from local bookshops
Reviews
Showing 1 - 4 of 4 reviews.
Review by nlavery
16/06/2015
Very interesting overview of the application of scientific methods used in explaining physical phenomena to also explain mass animal and human behaviour. Historical background is thorough, but was a bit surprised that the original greek philosophers were not included in background, such as Plato, who I believe already had already discussed political science.
Review by stefano
16/06/2015
a very well written introduction to a few important ideas from physics that have been used to model and explain facts in the social sciences. I liked the author's pedagogical insistence on certain themes. for example, I had never understood that phase transitions can be seen as the signature of processes where a lot of items almost simultaneously interact with their neighbors and so transitively with one another. similarly for power law distributions. the second part of the book (the internet and its patterns of connectivity) veers into territory that is very extensively covered by a large number of very good recent books and so I found it somehow less interesting/informative.
Review by Astrobob
16/06/2015
How are we (readers) affected by Ball's book ? Such question (although not this particular one) is what the book addresses. From how bacterial colonies form and financial markets crash to how traffic evolves and human behavior is affected by its surrounding, Ball passes over countless of historical facts & scientific details (explained in plain English) showing how many scientists, sociologists, economists & others (even physicists) have been, for ages trying to put down the building blocks (even without a prior knowledge) of a field which is now referred to as "Social Physics". One might wonder what social physics aims at. Well, its is not a science yet, but lots of progress has been made over the centuries by countless of investigators (as early as 1600 during which Thomas Hobbes is the key figure in Ball's book) if I may call them so, studying how humans interact (and thus are affected by external & internal influences) & are connected ( through the daily social network or the digital network), companies rise, fall & merge, countries form allies & wage wars, how phase transitions (p.119) changes the behavior of a system or its state & countless of other studies made over the centuries. Through such examples, Ball gives a detailed description of how life in general revolves around his title: Critical Mass. By critical mass, one understands a threshold beyond which the state of a system is abruptly changed. In other words, the critical mass is technically a "phase transition". Of course the book doesn't aim at describing phase transition but rather it shows how many of the studies included in the book & many other examples in daily life abide to some kind of phase transition or critical (point) mass. Phase transitions are often also called critical points. Critical points can be found nearly every where in physics. Critical Mass is not a book that belongs to any particular category by itself, but rather dwells into sociology, psychology, physics & statistical physics, mathematics & fractals, chaos & order, game theory & the prisoner's dilemma & many others. It is not just a good read, but one with a great ending [Epilogue]. It will surely expand your vocabulary & lubricate the traditional thinkers' mind & it's "linear thinking" or thought.
Review by pgmcc
16/06/2015
This book asks whether there are underlying natural laws that govern the endeavours of humans in the same way that natural laws govern processes in nature, such as the growth of snow crystals, phase shifts between liquid and gas, and the way in which metal changes from being magnetised to non-magnetised when heated. To help him address this question Ball introduces tools commonly used in the physical sciences to analyse and simulate natural processes.In the initial chapters the author describes the history of social science, economics and statistics. He tells how tools of the state, statistics, were adopted in the physical sciences. Then ball looks at processes in human society such as the formation of traffic jams, the pattern of movement in a crowd trying to escape a burning building, the growth pattern of cities, Internet morphology and what it owes to The Cold War years. In all these areas he demonstrates common traits that can be used to analyse and understand the processes in operation.Ball describes the application of these tools in the natural sciences and then reports on how they have been used in the analysis of human behaviour and such things as the movement of share prices in the stock market.It is Ball's contention that there are fundamental patterns that describe many behaviours and trends in human endeavour, from the voting patterns in elections, through the distribution of wealth in nations, to the boom and bust nature of the world's economies, and that understanding of these fundamentals will improve decision making and planning.He also reports on simulations carried out to assess the effectiveness and otherwise of different forms of government, i.e. dictatorship, democracy, etc… This is most enlightening and interesting.While he claims these tools can help us describe process behaviour and help us, he warns against the idea that they can necessarily be used to predict behaviour.The above paragraphs do scant justice to this book. It is the first non-fiction book I have read in a long time that I was loath to put down. It is vast in scope and presents information at a level that the majority of readers will find accessible. This is a thought provoking book that I will be returning to time and again.