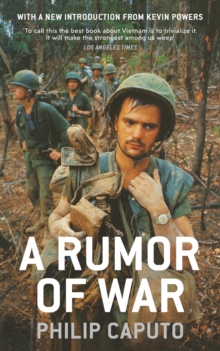 Description
The first memoir to emerge from the Vietnam conflict, Philip Caputo's A Rumor of War is now regarded as one of the great classics of war literature, ranked alongside All Quiet On the Western Front and The Naked and the Dead - 40th Anniversary Edition with an introduction from Kevin Powers. In March 1965, Marine Lieutenant Philip J. Caputo landed in Danang with the first ground combat unit committed to fight in Vietnam.
Sixteen months later, having served on the line in one of modern history's ugliest wars, he returned home - physically whole, emotionally wasted, his youthful idealism shattered.
A decade later, having reported first-hand the very final hours of the war, Caputo sat down to write `simply a story about war, about the things men do in war and the things war does to them'. `A singular and marvellous work - a soldier's-eye account that tells us, as no other book that I can think of has done, what it was actually like to be fighting in this hellish jungle' The New York Times`Unparalleled in its honesty, unapologetic in its candour and singular in its insights into the minds and hearts of men in combat, this book is as powerful to read today as the day it was published in 1977.
Caputo has more than earned his place beside Sassoon, Owen, Vonnegut, and Heller' Kevin Powers `To call this the best book about Vietnam is to trivialize it.
A Rumour of War is a dangerous and even subversive book, the first to insist that readers asks themselves the questions: How would I have acted?
To what lengths would I have gone to survive? A terrifying book, it will make the strongest among us weep' Los Angeles Times Book Review `Caputo's troubled, searching meditations on the love and the hate of war, on fear and the ambivalent discord warfare can create in the hearts of decent men are amongst the most eloquent I have read in modern literature' New York Review of Books`Superb.
At times it is hard to remember that this is not a novel' New Statesman
Information
Format: Paperback
Pages: 384 pages
Publisher: Vintage Publishing
Publication Date: 27/07/2017
ISBN: 9781847925138
Free Home Delivery
on all orders
Pick up orders
from local bookshops