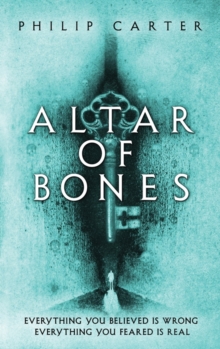 Description
Siberia, 1939. Pregnant with her first child, Lena Orlova plans a daring escape from a brutal Soviet prison camp to the one place she knows is safe: a cave containing the legendary Altar of Bones, hidden behind a frozen waterfall deep in the icy wilderness.
San Francisco, Present Day. Zoe Dmitroff discovers that she is the last in a line of women who have been entrusted with a secret so great many have died preserving it.
Propelled into a dangerous quest to discover exactly what she was born to protect, Zoe is soon running for her life from a vicious assassin and an all powerful businessman with chilling plans.
Only ex-Special Ops soldier, Ry O'Malley, can help her survive, but with time running out and the web closing in, Zoe will have to make a devastating decision that will transform her forever.
From the frozen wastelands of Russia, to the winding maze of Paris's backstreets, from Washington D.C, through America's mid-west all the way to San Francisco, THE ALTAR OF BONES is a gripping global thriller that spans the generations and unearths the dark secret behind one of the biggest conspiracies of all time.
Information
Format: Hardback
Pages: 640 pages
Publisher: Simon & Schuster Ltd
Publication Date: 01/05/2011
Category: Thriller / suspense
ISBN: 9780857202062
Other Formats
Paperback from £6.39
EPUB from £4.99
eAudiobook MP3 from £25.16
Free Home Delivery
on all orders
Pick up orders
from local bookshops
Reviews
Showing 1 - 3 of 3 reviews.
Review by cyderry
16/06/2015
Altar of Bones is about an altar made of bones (dah) which has magical powers and the bad guy with his girlfriend who want those powers. There is a veerrrry longggg chase throughout and conspiracy theories (Marilyn and JFK?) It lost me about halfway through.This blind date was a definite "don't call me, I'll call you."
Review by cathyskye
16/06/2015
First Line: Rosie knew the stranger had come to kill her as soon as he walked into the circle of light cast by their fire.Starting with an escape from a Siberian prison camp in 1937, Altar of Bones travels to the present day in a non-stop deadly quest for two items that several groups will stop at nothing to possess. San Francisco lawyer Zoë Dmitroff receives a letter from the grandmother she never knew telling her that she's the "keeper" of an ancient secret concerning a Siberian cave known as the Altar of Bones. At his father's death, government agent Ry O'Malley learns that the old man knew the location of a film that would rock the entire country. The two team up to stay alive and to get their hands on the secrets that others are killing to find.This is the type of book that is difficult to review without giving things away, so I'm heading straight for my reactions. The first two thirds of the book was an endless chase scene involving our two intrepid heroes, and the fact that stealth was not in the bad guys' vocabularies bothered me a bit. These people were conducting high speed chases at all times of the day and night firing endless rounds of ammunition from an assortment of guns. They did not care how many witnesses were around or how high the body count was. (Perhaps they counted on local police departments' budgets being cut so drastically that there would be no investigations.)I tired of the chase, primarily because of the psychotic conducting most of the chasing. At this stage of my life, my tolerance for fictional characters who love inflicting pain and death is practically nil. They turn my stomach, and they make me extremely angry. (I may seem to be a mild-mannered book blogger, but I do have a very nasty temper.)I was also amazed at how lucky Zoë was. She headed to Europe, using her credit cards all along the way, and wondered how the bad guys always knew where she was. She may not watch much television or read much crime fiction, but she specializes in defending battered and abused women and getting them away from their boyfriends and husbands. She knows something about flying beneath the radar. The relationship between Zoë and Ry was inevitable and made parts of the book sound like an erotic romance. However, even though characterization is not the prime directive in a thriller, Zoë and Ry were well-drawn enough for me to care about what happened to them.Even though I tired of the bad guys and the drawn-out chase scenes, I found that Zoë, Ry, and the dual prizes of the Altar of Bones and the film kept a grip on my imagination through to the end of the book. Hopefully the author's next thriller will contain a little less formula.
Review by pierthinker
16/06/2015
Generations of women, called Keepers, guard a strange cave in SIberia that contains an alter made of human bones and supplies a potion capable of bestowing immortality. The downside is that the potion also bestows madness in the forms of paranoia and megalomania. Zoe learns she is the latest Keeper and with the help of Steven Seagal act-a-like Ry goes on the run to find her origins and protect the Alter and its secret. Unbelievable, no?Carter does a great job of drawing us into the story by dropping us right into the action. He provides plenty of surprises and twisty turns, weaving in three of the most iconic events of the 20th century. This is all done at a pretty fast pace with little or no downtime for philosophizing or interpersonal growth. When our heroes get down to rutting, as we knew they would, it is definitely more rescue flare than Yankee Candle.This is a long book, but does not seem it because the balance of action and narrative reality is kept just-so and we swoop along with it, always interested and always wanting to see what happens next. The Ry character is an all-action cipher, but Zoe has some interesting quirks and displays the fear that must swallow all of us when we are pushed into situations where we must act in ways we never knew we could.Pulitzer Prize winner this ain't, but well worth a deep dive from the comfort of a soft, sunny beach.