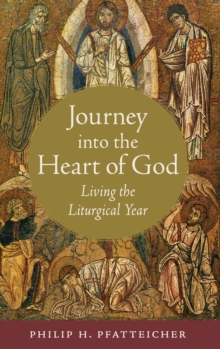 Journey into the Heart of God : Living the Liturgical Year
Hardback
Description
Journey into the Heart of God explores the meanings and relationships of the seasons of the Church Year as they have developed and are now received and lived.
This study, holding always in view the breadth and richness of the liturgical tradition of the whole Church, is illuminated by insightful liturgical texts of the Eucharist and also of the less familiar Daily Office; it also gives attention to the people's theology expressed in hymns from a broad spectrum oftraditions, ancient and modern.
Careful attention to the liturgy and its setting in the turning of the seasons reveals a profound concern for ecology and for the whole cosmos.
The liturgical year as it has developed through the centuries is a work of art, the collaborative achievement of many hands andminds, resulting in an extraordinarily rich fabric with layers of insight and suggestion.
The work of Christ celebrated and set forth in the Church's year is experienced not as mere recollection of past events in salvation history, but rather as a living reality, the appropriation of the mighty acts of God alive in his people, the experience today of the life that those great historical deeds have accomplished.
The Church year, sifted and tested through centuries, even millennia, of use,dramatizes and makes real a way of living, recognizing, accepting, and making use of the complexity and even the strangeness of human experience.
In this way it encourages honesty, humility, growth, and maturity in those who live it.
Other Formats
PDF from £28.49
EPUB from £28.49
Free Home Delivery
on all orders
Pick up orders
from local bookshops
Also by Philip H. Pfatteicher