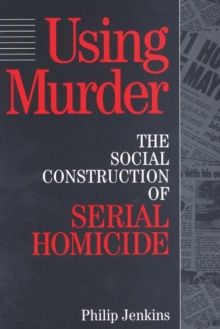 Using Murder : The Social Construction of Serial Homicide
Paperback / softback
Description
In the last decade, serial murder has become a source of major concern for law enforcement agencies, while the serial killer has attracted widespread interest as a villain in popular culture.
There is no doubt, however, that popular fears and stereotypes have vastly exaggerated the actual scale of multiple homicide activity.
In assessing the concern and the interest, Jenkins has produced an innovative synthesis of approaches to social problem construction.
It includes an historical and social-scientific estimate of the objective scale of serial murder; a rhetorical analysis of the construction of the phenomenon in public debate; and a cultural studies-oriented analysis of the portrayal of serial murder in contemporary literature, film, and the mass media.Using Murder suggests that a problem of this sort can only be understood in the context of its political and rhetorical dimension; that fears of crime and violence are valuable for particular constituencies and interest groups, which put them to their own uses.
In part, these agendas are bureaucratic, in the sense that exaggerated concern about the offense generates support for criminal justice agencies.
But other forces are at work in the culture at large, where serial murder has become an invaluable rhetorical weapon in public debates over issues like gender, race, and sexual orientation.Serial murder is worthy of study not so much for its intrinsic significance, but rather for what it suggests about the concerns, needs, and fears of the society that has come to portray it as an 'ultimate evil.' Using Murder is a highly original study of a powerful contemporary mythology by a criminologist and historian versed in the constructionist literature on the origins of 'moral panics.'
Information
Format:Paperback / softback
Pages:272 pages
Publisher:Taylor & Francis Inc
Publication Date:31/12/1994
Category:
ISBN:9780202305257
Other Formats
EPUB from £29.99
PDF from £29.99