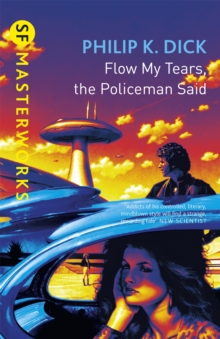 Flow My Tears, The Policeman Said
Paperback
Description
Another classic novel from the world's greatest writer of science fictionJason Taverner is a Six, the result of top secret government experiments forty years before which produced a handful of unnaturally bright and beautiful people ... and he's the prime-time idol of millions until, inexplicably, all record of him is wiped from the data banks of Earth.
Suddenly he's a nobody in a police state where nobody is allowed to be a nobody.Will he ever be rich and famous again?
Was he, in fact, ever rich and famous?
Information
Format: Paperback
Pages: 208 pages
Publisher: Orion Publishing Co
Publication Date: 08/11/2001
ISBN: 9781857983418
Other Formats
Paperback from £7.05
EPUB from £5.99
Free Home Delivery
on all orders
Pick up orders
from local bookshops
Reviews
Showing 1 - 5 of 6 reviews.
Previous | Next
Review by theboylatham
16/06/2015
Eight out of ten.
Jason Taverner is a world famous celebrity - his TV show is watched by weekly by 35 million people. One morning he wakes up and no-one knows who he is...
Review by PhoebeReading
16/06/2015
Despite my four star review, this is a very, very uneven book. The first hundred and seventy pages or so are plodding, not particularly exciting, and lack the strong sense of setting that many of Dick's better books (<I>Scanner Darkly</I>, <I>Do Androids Dream of Electric Sheep?</I>) possess. However, the novel's conclusion picks up tremendously. I'm not entirely convinced that Dick had figured out the reason for Taverner's unexisting until the book's end, but once he resolves that issue, the prose becomes more lurid and lovely, the pacing more intense. The Epilogue is pretty hilarious, too boot--though wikipedia would have you believe that this is an uncharacteristic upbeat ending, it's really only truly upbeat in terms of the subsequent life of a <I>vase</I>.
Review by AHS-Wolfy
16/06/2015
What happens when you wake up and find out you no longer officially exist when you live in a police state? This is what Jason Taverner, a singer who also has his own TV show, finds the answer to when, after an encounter with a former protégé, he wakes up in a flea-pit hotel room with no identity cards and where no-one, for the first time in 20 years, recognises his face. His agent totally disavows all knowledge of him as does his current lover and fellow singer, Heather Hart. Along with Heather, Jason has another secret that if anyone found out would see them sent to a forced labour camp. They are Sixes, the product of top secret government experiments 40 years earlier but now there's not many of them left.Is the memory of his life up until this point just a sham and he's gone insane? Is it a plot to discredit him? Has someone found out his secret and now it's just a matter of time until his internment at one of those camps? Jason sets out to get some answers and also to get his life back along the way.The feel of this book is very reminiscent of <i>The Demolished Man</i> by <i>Alfred Bester</i> examining the question of who a person really is. Written in 1974 and set in a 1980's dystopian future some of the technology is a little dated but the amount of ideas contained in this short novel more than make up for that. This is a very quick and readable story with interesting characters but does have a slightly weak ending but very enjoyable all the same.
Review by Pondlife
16/06/2015
This is quite a good novel, but not one of PKD's best.The main problem for me was that the ending just seemed too far fetched. Drugs often feature in PKD novels, and parallel dimentions or alternative realities are common SF concepts, but the was these two things were combined just didn't seem at all convincing to me. In fact, it felt like a deus ex machina.Perhaps I missed something, but the epilogue seemed totally unnecessary: it didn't really add anything to the story.Currently, I rate Do Androids Dream of Electric Sheep, A Scanner Darkly, and Ubik higher than Flow My Tears.
Review by xuebi
16/06/2015
Once more Philip Dick delivers an intriguing and often confusing novel concerning the nature of identity. <br/><br/>Set in a dystopian police-state America, a genetically-enhanced actor wakes up one day and finds out he never existed. What happens next is an exploration of this nightmarish scenario though the twist ending is somewhat controversial.