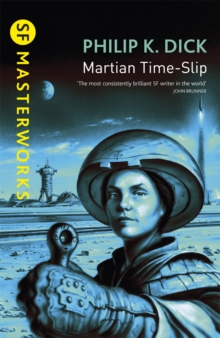 Martian Time-slip
Paperback
Description
Mars is a desolate world. Largely forgotten by Earth, the planet remains helpless in the stranglehold of Arnie Kott, who as boss of the plumber's union has a monopoly over the vital water supply.Arnie Kott is obsessed by the past; the native Bleekmen, poverty-stricken wanderers, can see into the future; while to Manfred, an autistic boy, time apparently stops.
When one of the colonists, Norbert Steiner, commits suicide, the repercussions are startling and bizarre.
Information
Format: Paperback
Pages: 240 pages
Publisher: Orion Publishing Co
Publication Date: 08/07/1999
Category: Science fiction
ISBN: 9781857988376
Free Home Delivery
on all orders
Pick up orders
from local bookshops
Reviews
Showing 1 - 3 of 3 reviews.
Review by ragwaine
16/06/2015
Cool, shizo stuff but kind of boring and dated, simillar but not as good as 'Sirens of Titan'
Review by sharonlflynn
16/06/2015
I didn't enjoy this as much as other Philip K. Dick books. I didn't find it as clever.The story is set in the future, when mankind has colonised Mars. A number of people have moved there and a social and political society has grown. But the expected investment of time, money and interest from Earth has not happened, and the migrants feel abandoned by home.The book is not a commentary on society, but rather on its treatment of those who are different, focusing on an autistic child.One aspect I did like was the view of education in the future. Teachers have been replaced by machines, each machine with its own personality and teaching style. I found the descriptions of the teaching machines very amusing. "Its advantage over a human teacher lay in its capacity to deal with each child individually. It tutored, rather than merely teaching."Ultimately, I found the book unsatisfying. The reader is left unsure of what is real and what is not. Which version is being imagined? Maybe that's the whole point.
Review by questbird
16/06/2015
An interesting view of Mars as a colony of broken-down people in a remote and desolate environment. There are petty colonial powerbrokers, black marketeers and the Bleekmen, native Martians who are despised by the settlers for their primitiveness and hopelessness in the face of colonisation. They reminded me of Australian aborigines. The book examines schizophrenia and autism in its protaganists, and the focus is the psychology of the characters rather than a hard-science fictional imagining of how people would live on Mars. (Apart from the lack of water and the remoteness from earth, the colony could really be any desert world.) I enjoyed this book almost as much as the Man in the High Castle.
Also in the S.F. Masterworks series | View all