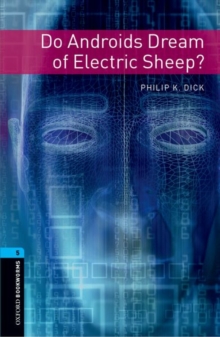 Oxford Bookworms Library: Level 5:: Do Androids Dream of Electric Sheep?
Paperback
Description
Classics, modern fiction, non-fiction and more. Written for secondary and adult students the Oxford Bookworms Library has seven reading levels from A1-C1 of the CEFR. San Francisco lies under a cloud of radioactive dust.
People live in half-deserted buildings, and keep electric animals as pets because many real animals have died.
Most people emigrate to Mars - unless they have a job to do on Earth.
Like Rick Deckard - android killer for the police and owner of an electric sheep.
This week he has to find, identify, and kill six escaped androids.
They're machines, but they look and sound and think like humans - clever, dangerous humans.
The film Blade Runner was based on this famous novel. CEFR B2 Word count 31,300
Information
Format: Paperback
Pages: 128 pages, line illustrations
Publisher: Oxford University Press
Publication Date: 06/12/2007
Category: ELT graded readers
ISBN: 9780194792226
Free Home Delivery
on all orders
Pick up orders
from local bookshops
Reviews
Showing 1 - 5 of 5 reviews.
Review by RVonbengfort
16/06/2015
I am currently listening to the haunting and extremely stylized and dated soundtrack of Blade Runner and I cannot get enough of Philip K. Dick. I had seen the movie Blade Runner at such an earlier age, very long ago that I did not quite understand what was going on. I watched it again about ten years later at still the young age of thirteen. I watched it at night in a red-misted room filled with, as the Dick would put it, "kipple". I had immersed myself in the movie both psychologically and literally. However once the film ended that was that. I still did not understand most of what happened. Now after close to a decade later, I have read the book, which loosely inspired the movie. Do Androids Dream of Electric Sheep has now expanded the world within the movie I had almost forgotten about. I feel as though in order to better understand the movie, the viewer must read the novel. To me the movie is more of a sequel than an adaptation. And on that note a very bad sequel that does not follow the first movie's story at all. Don't misunderstand me though, they are two great works of art despite how they contradict one another.Still listening to the soundtrack and it's making me already miss reading the novel. Oh, what do I do? I am a huge fan of science fiction. I love Ray Bradbury's The Martian Chronicles and Fahrenheit 451. I love Stephen King's The Stand. Do Androids Dream of Electric Sheep has now reached the top of my list of favorite books. I've been trying to find books on the scale of Bradbury and I think Philip K. Dick is a likely candidate. In the novel, the Androids are the antagonist and Rick Deckard, the protagonist, is out to "retire" them cause of the threat they pose on civilization. The threat wasn't clear to me when I read the novel although I do not think it was clear to Rick either. As soon as he met an android, which believed it was a real bounty hunter like him, Rick began to perceive everything with a new light. What if these Androids could dream? What if they could feel or even love? During the middle of the book I began to question as well. I began to "feel for" these pieces of metal with limbs. However, once I read what J. R. Isidore went through, my questions were answered. The answer it supplied me with was no, they do not, although they are very similar to many people in our society today. Politicians go about killing the enemy every day of their lives yet they can still smile in front of an audience or a camera. How can they do this? Well, because they are androids. They show the basic characteristics and emotions of a normal human being but they simply are not there. It is similar to another character in a book called, American Psycho. In that novel, Patrick Bateman works as a high-class stockbroker who kills woman and homeless people at night. How does he smile in front of his co-workers during the day? It is simple; he is an android as well. They walk among us all the time. You might even be friends with one. Heck I might even be an android. Though let's not dive into that. The truth is Philip K. Dick shows us a mirror of society in his novel. He shows us that there are people out there that just do, without emotion. I am unsure if Dick is proposing that we hunt these emotionless people down or not. I came away from this novel thinking about a lot of what I have done in the past and what I plan to do. It made me think how much it means to me to be human and have all these emotions. It made me appreciate everything.
Review by singh116
16/06/2015
Contemporary society currently stands at a junction during which a greater amount of society and life continually becomes entrenched in technology and virtual stimulation. In exploring this path upon which society treks, science-fiction serves as a springboard of possible routes. Philip K. Dick's novel Do Androids Dream of Electric Sheep? displays this merger of the virtual and physical worlds with lines of reality becoming so blurred to almost prevent the distinction between what is real and artificial. It serves as a critique of and draws parallels to the detachment emerging in current society with the internet and social-networking sites.Philip K. Dick's novel Do Androids Dream of Electric Sheep? revolves around a world in which even emotions are simulated and humans are distinguished from other beings and technology by the single trait of empathy. Rick Deckard lives in San Francisco during a post-nuclear fallout era after which many human beings have left bleak, desolate Earth to colonial Mars. He remains behind as a bounty hunter killing rogue androids that have escaped to Earth from the colonies. Through Deckard and the setting, Dick creates a depraved world submerged into technology and using technology in nearly all aspects of life. This world mirrors contemporary society's use of technology for survival and function. From computers to cars, people live in a nation dependent upon technology to survive, and with the growth of the virtual world within the internet, society becomes more entrenched within the simulated.From the start as Rick and his wife Iran awake, they use a Penfield mood organ in order to stimulate their emotions for the day. Iran dials into a "382 mood" of despair and intellectual emptiness, followed by 481 for "awareness of the manifold of possibilities [set at for] three hours later" (5). Iran tunes herself to a desired frequency for the day, dependent upon this technology for her mood. The mood organ represents an epitome of technology, in which the basic functions of emotions have become centralized into a box. Emotions have been transformed into numbers, which once inputted stimulate certain areas of the brain's somatosensory cortex. Thus, Dick criticizes the futuristic development of technology and brings to attention what Jean Baudrillard calls the "simulacra" in his Simulacra and Science Fiction. Dick creates a third-order simulacrum – a world in which the entire technology becomes centered upon "total control," and in this case of emotion.Even more vital than this mood organ is the empathy box. Continually throughout the novel, protagonists Rick Deckard and sub-human John Isidore utilize the empathy box, in order to connect with others around the world and Wilbur Mercer. The box transports these people into a world in which they endeavor with Mercer in his experience up a hill, representing the difficult uphill endeavor of life. The box represents the quintessential virtual experience, in which humans become virtually and psychologically translocated from their homes to a virtual world. Furthermore, by taking on the subject of religion, Dick places special attention on the powers of the virtual. He questions what humans categorize as fundamentally precious – faith. The empathy box thus represents a piece of technology capable of simulating faith within the masses. Even when Wilbur Mercer and his experience of this virtual world are shown to be fake and humanly directed, the faith brought by the virtual still remains in the people. Rick Deckard and John Isidore remain faithful to Mercerism's ideologies even in their virtually submerged worlds.The modern world also casts a familiar light of connection between physical emotions and the virtual world. The internet has become a media by which people create and maintain their personas, while also connecting to individuals. Social-networking sites, such as Facebook and Twitter, have brought to fruition the notion of a virtual identity on which society places greater attention and focus. Furthermore, the immediacy of the internet and modern-society have created this constant updating of emotions and connections, as seen within Dick's Mood Organ and Empathy Box. As such, the novel continually brings into questions as to where society seems to be heading.Philip K. Dick's novel Do Androids Dream of Electric Sheep? portrays a world in which technology has rooted itself in every action and stimulation of the human, causing a world in which the virtual and physical became nearly impossible to differentiate. Contemporary society also mirrors this blend of worlds with social-networking sites and the internet propagating our greater attention to the virtual. The novel continually draws in the reader with its in-depth imagery and a reminder to the question pertaining to our world: Will our society become like Dick's?
Review by markbstephenson
16/06/2015
Will orthodox Mercerism save me from committing adultery with a robot?
Review by CarmeloRafala
16/06/2015
The book that started a generation's love of futuristic noir.
Review by Nazgullie
16/06/2015
Something about Philip K. Dick's writing is so vulnerable and fragile. That's how I felt about the characters while I was reading this story. The world itself is cold, harsh, lacking in beauty, true beauty, but the characters still somehow, capture some of that beauty through their vulnerability. It's an ugly world that Dick's portraying in this story, and if you're looking for happy endings, this isn't the book for you. However, I highly recommend reading this, if you haven't. It's one of those stories, that you have to read again, and again, because I'm convinced there are clues still hidden in between the words.
Also in the Oxford Bookworms ELT series | View all