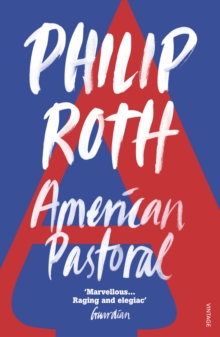 American Pastoral
Paperback
Description
In American Pastoral, Philip Roth gives us a novel of unqualified greatness that is an elegy for all the twentieth century's promises of prosperity, civic order, and domestic bliss.
Roth's protagonist is Seymour 'Swede' Levov - a legendary high school athlete, a devoted family man, a hard worker, the prosperous inheritor of his father's Newark glove factory - comes of age in thriving, triumphant post-war America. And then one day in 1968, Swede's beautiful American luck deserts him.
For Swede's adored daughter, Merry, has grown from a loving, quick-witted girl into a sullen, fanatical teenager - a teenager capable of an outlandishly savage act of political terrorism. And overnight Swede is wrenched out of the longed-for American pastoral and into the indigenous American berserk.
Compulsively readable, propelled by sorrow, rage, and a deep compassion for its characters, this is Roth's masterpiece.
Information
Format: Paperback
Pages: 432 pages
Publisher: Vintage Publishing
Publication Date: 21/02/1998
ISBN: 9780099771814
Other Formats
Paperback from £7.65
EPUB from £4.99
Free Home Delivery
on all orders
Pick up orders
from local bookshops
Reviews
Showing 1 - 5 of 15 reviews.
Previous | Next
Review by deargreenplace
16/06/2015
Long after finishing this book, I still think about it. An affecting study of how a family copes with the actions of teenager Meredith.
Review by vegetrendian
16/06/2015
Winner of the 1998 Pulitzer prize, this is my favourite by the prolific and controversial Roth. Here he is writing again as Nathan Zuckerman in the first of a loosely conceived trilogy on modern American life (with "I Married a Communist" and "The Human Stain"). Roth is playing a bit here since he has his narrator actually just guessing about the story of an old acquaintance who has had his life thrown through a loop at some point. Zuckerman picks up on what is left out of his friend's story and creates his own narrative, using "the Swede", as he is called, and the smooth family life that the charming athlete with the beauty queen wife is supposed to have, as a basis for a condemnation of American values, and the emptiness of the so-called perfect life. Except for a tedious scene in a glove factory, this book is superbly executed and timely. It deals predominantly with the Swede's young daughter and her opposition to the war (Vietnam), her subsequent trouble with the law, and her estrangement from her family. It is a dark picture of what can happen to a sensitive child with empathy for a faraway land being bombed to smithereens by her country. This empathy gets misplaced because it is so repressed. She has nowhere healthy to express herself and so she ends up destroying her family and her own life. Leaving her a confused and scared child out on her own. Roth succeeds in never descending into preaching or pitying and the story is told with a wonderful sense of touch and pacing. In my opinion this is Roth at his finest. I read Portnoy's Complaint when I was in my early twenties and felt little affinity for it. Roth did not seem to able to paint an unlovable character with any pathos. But I had heard such good things about his later works (particularly this and "The Human Stain") that I persisted, and I am glad that I did. Both works (and this one is the superior of the two in my mind) were wonderfully written with an eye for detail and character that brings the stories to life. Both are told in an almost documentorial fashion despite Roth's use of Zuckerman as narrator. They are small slices of tragedy in modern day America beautifully rendered. This is a strong compelling book, and I recommend it highly.If you liked this you might like…/ If you liked… you might like this"Unless" by Carol Shields"The Blind Assassin" by Margaret Atwood"The Human Stain" by Philip Roth
Review by tercat
16/06/2015
This is a really great book, and definitely the best I've read by Philip Roth. There's some sort of Death of a Salesman link here. <br/><br/>It's somehow fitting that I thought of my dad when I read this book, and then after I gave it to him (twice by accident!!) he read it and liked it, but looked at it in a totally different way than I did.
Review by samatoha
16/06/2015
Roth is great in being a "page turner" author, he has excellent talent in building a narrative, and the description of the chaotic life,and the changeble point of view about time and life as it goes by, is done quite well.also,as usuall with Roth, the opoosite differences between thought and talk and action in people behaviour, with a sense of hysteria above everything.But,looking at the story as yet another version of the broken american dream, i think Updike and Bellow done this better and deeper, and Roth here seems to take influence from both.A very american Novel, that sometimes seems to carry too much on his shoulders,but still,worth the efoort.
Review by lincroft
16/06/2015
I can't do this book justice. I couldn't get past the first part of the book.