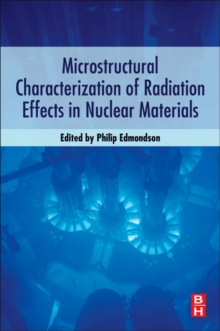 Microstructural Characterization of Radiation Effects in Nuclear Materials
Paperback / softback
Description
Microstructural Characterization of Radiation Effects in Nuclear Materials provides an overview into experimental techniques that can be used to examine those effects (both neutron and charged particle) and can be used by researchers, technicians or students as a tool to introduce them to the various techniques.
The need to examine the effect of radiation on materials is becoming increasingly important as nuclear energy is emerging as a growing source of renewable energy.
The book opens with a discussion of why it is important to study the effects of radiation on materials and looks at current and future reactor designs and the various constraints faced by materials as a result of those designs. The book also includes an overview of the radiation damage mechanisms.
The next section explores the various methods for characterizing damage including transmission electron microscopy, scanning transmission electron microscopy, analytical electron microscopy, electron backscatter diffraction, atom probe tomography, X-ray scattering techniques and ion beam analysis techniques.
Lastly, a brief introduction into modelling radiation effects in materials, and the synergy of experiments and modelling to provide an atomic-scale to macro-scale understanding of damage processes is included.
Information
Format: Paperback / softback
Pages: 736 pages
Publisher: Elsevier - Health Sciences Division
Publication Date: 01/01/2020
ISBN: 9780128053164