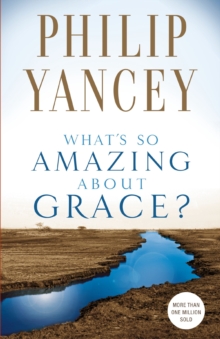 What's So Amazing About Grace?
Paperback
Description
In 1987, an IRA bomb buried Gordon Wilson and his twenty-year-old daughter beneath five feet of rubble.
Gordon alone survived. And forgave. He said of the bombers, "I have lost my daughter, but I bear no grudge. . . . I shall pray, tonight and every night, that God will forgive them."His words caught the media's ear--and out of one man's grief, the world got a glimpse of grace.Grace is the church's great distinctive.
It's the one thing the world cannot duplicate, and the one thing it craves above all else--for only grace can bring hope and transformation to a jaded world.In What's So Amazing About Grace? award-winning author Philip Yancey explores grace at street level.
If grace is God's love for the undeserving, he asks, then what does it look like in action? And if Christians are its sole dispensers, then how are we doing at lavishing grace on a world that knows far more of cruelty and unforgiveness than it does of mercy?Yancey sets grace in the midst of life's stark images, tests its mettle against horrific "ungrace." Can grace survive in the midst of such atrocities as the Nazi holocaust?
Can it triumph over the brutality of the Ku Klux Klan?
Should any grace at all be shown to the likes of Jeffrey Dahmer, who killed and cannibalized seventeen young men?Grace does not excuse sin, says Yancey, but it treasures the sinner.
True grace is shocking, scandalous. It shakes our conventions with its insistence on getting close to sinners and touching them with mercy and hope.
It forgives the unfaithful spouse, the racist, the child abuser.
It loves today's AIDS-ridden addict as much as the tax collector of Jesus' day.In his most personal and provocative book ever, Yancey offers compelling, true portraits of grace's life-changing power.
He searches for its presence in his own life and in the church.
He asks, How can Christians contend graciously with moral issues that threaten all they hold dear?And he challenges us to become living answers to a world that desperately wants to know, What's So Amazing About Grace?
Information
Format: Paperback
Pages: 304 pages
Publisher: Zondervan
Publication Date: 25/01/2002
Category: Christian theology
ISBN: 9780310245650
Other Formats
Paperback from £4.55
DVD video from £12.55
EPUB from £6.49
Hardback from £10.25
Mixed media product from £16.85
Free Home Delivery
on all orders
Pick up orders
from local bookshops
Reviews
Showing 1 - 5 of 10 reviews.
Previous | Next
Review by SueinCyprus
02/03/2016
This is a quite amazing book, one I would recommend to all Christians whatever their background, and to anyone who's interested in knowing about Christianity, or indeed anyone who's been hurt by Christians.<br/><br/>The book's been criticised by fundamentalists; not surprisingly perhaps since Yancey grew up fundamentalist - and racist - himself. But now he accepts that God is found in many places and people, and can be part of all denominations whether Protestant, Orthodox or Catholic. His writing makes such intuitive sense, and is so well expressed, that I find it hard to see how anyone could disagree with it. This is how the church should be, and it's a massive challenge for the 21st century where Christianity is more often associated with anger and critisism than with compassion and grace.<br/><br/>Re-read eight years later, and still found it powerful, even if a little over-political in places.
Review by rybeewoods
16/06/2015
In the Grip of Grace is where I started, but it was through this book that I came to a more healthy understanding of true godly grace.
Review by libraryclerk
16/06/2015
Was so good I read it again this year, 2010
Review by jaygheiser
16/06/2015
Brilliant book. Perhaps the best Christian book I've ever read. It helps me feel more comfortable with some of the 'radical' ideas I have about the state of today's Christianity--ideas that I've struggled with for years.
Review by MrsLee
16/06/2015
Philip Yancey has written a wonderful work on what grace is, how it differs from justice or ungrace and why we all need more of it. He dissects the word itself and its uses, how it has been misused and how it has been forgotten or buried in our lives.Though the message he brings isn't exactly new, it is one which is easy to forget in the everyday bustle and hustle. This is a call to all people to remember to live in grace, but especially to Christians who have been so distracted by morality and busy work, we have forgotten our origins as bastards saved by grace. I plan to buy this book and reread it, the message is so important.