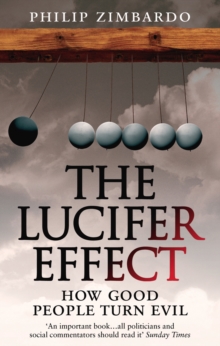 The Lucifer Effect : How Good People Turn Evil
Paperback
Description
In The Lucifer Effect, the award-winning and internationally respected psychologist, Philip Zimbardo, examines how the human mind has the capacity to be infinitely caring or selfish, kind or cruel, creative or destructive.
He challenges our conceptions of who we think we are, what we believe we will never do - and how and why almost any of us could be initiated into the ranks of evil doers.
At the same time he describes the safeguards we can put in place to prevent ourselves from corrupting - or being corrupted by - others, and what sets some people apart as heroes and heroines, able to resist powerful pressures to go along with the group, and to refuse to be team players when personal integrity is at stake.
Using the first in-depth analysis of his classic Stanford Prison Experiment, and his personal experiences as an expert witness for one of the Abu Ghraib prison guards, Zimbardo's stimulating and provocative book raises fundamental questions about the nature of good and evil, and how each one of us needs to be vigilant to prevent becoming trapped in the 'Lucifer Effect', no matter what kind of character or morality we believe ourselves to have. The Lucifer Effect won the William James Book Award in 2008.
Information
Format: Paperback
Pages: 576 pages
Publisher: Ebury Publishing
Publication Date: 01/03/2008
Category: Ethics & moral philosophy
ISBN: 9781846041037
Free Home Delivery
on all orders
Pick up orders
from local bookshops
Reviews
Showing 1 - 1 of 1 reviews.
Review by seekingflight
16/06/2015
One of the most sobering, thought-provoking and thoroughly absorbing books I've read all year. Psychology students will know of Zimbardo in the context of the Stanford Prison Experiment, conducted in the 1970s, where a group of students were randomly assigned to roleplay either students or guards in a mock prison experiment conducted in a basement in the University. The experiment was intended to last for two weeks, but was suspended early because of the extent to which it influenced the behaviour of the guards and the prisoners. Zimbardo here presents a detailed account of the way in which the experiment unfolded, arguing that it was the situation – and ultimately the system – that shaped this behaviour, and not the characteristics and personalities that the students brought with them into the experiment.He then broadens his scope to include an analysis of events at Abu Graib, and elsewhere in Iraq, and argues similarly that situational and systemic factors played a crucial role here also.While acknowledging that individuals should also be considered responsible for their own behaviour, Zimbardo argues that the responsibility does not belong solely to individual 'bad apples', but to the situation and system that created them. He argues that that very few people exposed to such situational and systemic pressures would have the integrity and strength of character to resist them, and that paradoxically our naive belief that we ourselves would never behave in such a way only blunts our ability to remain alert to such dangers -- so that we can act differently when confronted by such pressures.In his conclusion, Zimbardo changes tack, arguing that if 'evil' is an all too human capacity, then perhaps 'heroism' is too, and we might similarly be able to create situations and systems in society that inspire people and bring out the best that they are capable of, instead of the worst. I found this engrossing from start to finish, and count it among my best reads of the year. One caveat to this recommendation, however -- some reviews of this work suggest that it is overly detailed and repetitive. As with so many other things, this seems to be a matter of individual taste and preference.