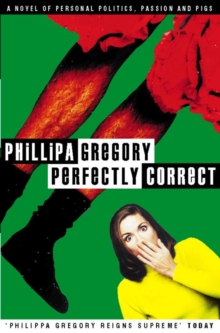 Perfectly Correct
Paperback
Description
A wickedly witty tale of modern manners, happily suggesting that PC is not the only way to be.Dr Louise Case has the right career, the right country cottage and a commitment-free relationship with a fellow academic.
According to contemporary codes, it's all very correct - except that Louise begins to suspect that it's far from perfect.Then along comes Rose, eighty if she's a day, who effortlessly disrupts everything.
Soon both campus and cottage are in chaos, while the old lady commences to set her own house - a decrepit old van - in order. And this includes an unthinkably traditional role for Louise...
Information
Format: Paperback
Pages: 288 pages
Publisher: HarperCollins Publishers
Publication Date: 01/01/1997
ISBN: 9780006496427
Free Home Delivery
on all orders
Pick up orders
from local bookshops
Reviews
Showing 1 - 5 of 5 reviews.
Review by wyvernfriend
16/06/2015
Passable but a bit annoying message wise.This tries to be several things and fails. Louise is a lecturer in college with a committment free relationship with Toby, another academic, who's married to Miriam, Louise's best friend. Rose comes along to stay in her orchard, who's 80, and starts stirring things.Best bit:"You read novels?" she asked rudely."Sometimes. Mostly I listen to them." he smiled. "I've got a Walkman and I like to listen to novels when I'm in the tractor cab. I like Jane Austen best I think, but I like them all."He did up the buttons on his jacket. "George Eliot is good for a long field," he said. "And Henry James is the best for harrowing. But that post-modernist fiction I just can't get on with. It's no good for ploughing at all." He shot a mischievous grin at her astonished face.
Review by MsNikki
16/06/2015
I barely remember this book, but I do remember that it wasn't horrible...guess I'm due for a re-read.
Review by SmithSJ01
16/06/2015
A delightful afternoon spent reading this book. I was unsure when I first started reading it as it seemed to be just an average romance with nothing new in it. It picked up and I found myself thoroughly enjoying the torment Dr Case feels when she is torn between what she thinks are her feminist beliefs and the traditional life she genuinely craves and wants. Louise (Dr Case) has what she wants, she's a writer/researcher and a University lecturer. She has also inherited a wonderful country cottage from her Aunt. Caught up in a relationship with a married man - this is the bit that I was confused with at the start, she's quite happy playing second best to Miriam (who is also her friend) with Toby. Then Rose arrives in her old van, parks up in Louise's orchard and Louise's life changes. Bit by bit her life changes and unravels around her with Louise feeling like she has little control over anything. Rose is there every step of the way though engineering some of the changes to help Louise realise what it is she really wants. You can't take this book too seriously and you shouldn't find yourself thinking about how she's gone back on her beliefs - it's fiction after all. Lots of lessons learned in this plot and a chance to think about your own life - have you got what you really want? A good plot, midly irritating at times how she does manage to fall so nicely on her feet but otherwise an entertaining read. The length is just right and you are given a chance to get to know all of the characters through Gregory's wonderful descriptive prose. The plot includes references to the Suffragette movement and DH Lawrence, so a good mix of literature and social politics. As mentioned, the relationship between Louise, Toby and Miriam was confusing but became understandable after a few chapters. Set over 11 days, each chapter is a different day, with an epilogue at the end to tie up the loose ends. You do need to suspend belief for part of it but it is fiction and isn't likely to happen this way so enjoy it.
Review by soliloquies
16/06/2015
An enjoyable read, but not one of her best.
Review by Tangotango
23/09/2015
First I liked it, then there was a time I thought it cliché.When I re-read it more recently, I could appreciate the humour and self-irony. Of course it is still a stereotyped feel-good-happy-ending story, but a nice read when you are mature enough to take that with mental distance just as fiction...