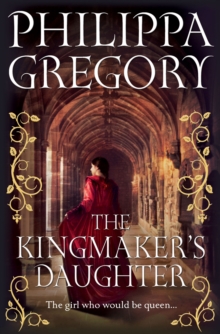 The Kingmaker's Daughter
Hardback
Description
'I have lost my father in battle, my sister to Elizabeth Woodville's spy, my brother-in-law to Elizabeth Woodville's executioner, my nephew to her poisoner, and now my son to her curse...' The gripping and ultimately tragic story of Anne Neville and her sister Isabel, the daughters of the Earl of Warwick, the most powerful magnate in England through the Cousins' Wars.
In the absence of a son and heir, he ruthlessly uses the two girls as pawns but they, in their own right, are thoughtful and powerful actors.
Against the backdrop of the court of Edward IV and his beautiful queen, Elizabeth Woodville, Anne turns from a delightful child growing up in intimacy and friendship with the family of Richard Duke of York to become ever more fearful and desperate as her father's enemies turn against her, the net closes in and there is, in the end, simply nowhere she can turn, no one she can trust with her life.
Information
Format: Hardback
Pages: 464 pages
Publisher: Simon & Schuster Ltd
Publication Date: 15/08/2012
Category: Historical fiction
ISBN: 9780857207463
Other Formats
Paperback from £6.89
EPUB from £5.99
CD-Audio from £13.35
eAudiobook MP3 from £20.96
Free Home Delivery
on all orders
Pick up orders
from local bookshops
Reviews
Showing 1 - 3 of 3 reviews.
Review by tina1969
16/06/2015
At the court of Edward IV and his beautiful queen, Elizabeth Woodville, Anne grows from a delightful child to become ever more fearful and desperate when her father makes war on his former friends. Still only a girl she is married and then left widowed and fatherless, with her mother in sanctuary and her sister married to the enemy. She manages her own escape by marrying Richard, Duke of Gloucester, but her choice will set her on a collision course with the overwhelming power of the royal family, and will cost the lives of those she loves most in the world, including her precious only son, Prince Edward. Ultimately, the kingmaker's daughter will achieve her father's greatest ambition.My Thoughts:I seem to be reading about Anne Neville all of a sudden. She seems to be cropping up in historical novels at the moment.There is no doubt that in this account by PG that a lot of research has gone into the book. Again though I am finding that like the other books in the 'cousins war' series the book was a little overlong and a bit drab in places. The story itself was interesting but I found that I was just re-reading what I had read before in the other books. I am reading the same accounts but just been told the story through the eyes of different historical figures. The whole thing could have been done in one book. Out of all the books in the series so far the best one has to be 'The White Queen'Overall a bit of a historical yarn, full of facts and interesting at times. Anybody who like either Philippa Gregory or history it will appeal to. For me I would like PG perhaps to move to a different period in history.
Review by readingwithtea
16/06/2015
"Well, it makes no odds. A girl's no good. A girl can't take the throne."The fourth in Gregory's highly successful series of The Cousins' War (as the War of the Roses, as we now know it, was known at the time), The Kingmaker's Daughter tells the story of Anne Neville, daughter of Richard Earl of Warwick. Warwick had put Edward IV on the throne, but Edward had proved to be not quite as malleable a puppet as Warwick had expected, by marrying Elizabeth Woodville (The White Queen, daughter of The Lady of the Rivers) in secret. Disappointed by his protege, Warwick turned to Edward's other brothers in an effort to control the throne, and married his daughters off to meet his needs.Anne's life is portrayed in the other books as a sorry one – sickly, often overlooked for advantageous marriages, having to cater to her sister's every whim. However, this book was considerably more positive than I had expected – Gregory imbues her with a resilience and loyalty which is not expected, given the other books I had read in the series. She deals with her father's repeated changing of sides, her sister's superiority and paranoia, the trouble caused by her over-ambitious brother-in-law; none of it causes her much distress. What is interesting is her introspection towards the end – she knows she has become hardened and deadened to political movements and changes that would have once scandalised her.It is a little frustrating to read the same material again (admittedly through different eyes and different imagined private events), but Gregory does an admirable job of introducing enough new material to keep us interested and a different perspective on familiar events. My main objection to the prior books has been the sheer number of battles to wade through; this book misses some of the first ones out by starting only once Edward IV is on the throne, and ending before the Battle of Bosworth field which would ultimately conclude the Cousins' War.I found it interesting that Richard III is ultimately portrayed as sympathetic, loyal, in fact fatally loyal to the York cause, and not the evil hunchback that Shakespeare would have us remember. In this, Gregory builds on the not unsympathetic picture conjured in The White Queen.If you've read the other three, you'll read this one too. If you haven't read the others, I wouldn't worry about this one – start with The Lady of the Rivers (first chronologically) or The White Queen (best written) and see how you get on with the series.
Review by PennyAnne
16/06/2015
I love this period of history and really enjoy Gregory's historically based fiction written from the perspective of the various women involved in the events. I enjoy how each book ends up with me siding with the point of view of the narrator (in this case Anne Neville, wife of Richard III) until the next book when I see the same story from a different perspective. Well-written, engaging and thought-provoking while at the same time being very easy to read.
Also in the Cousins' War series | View all