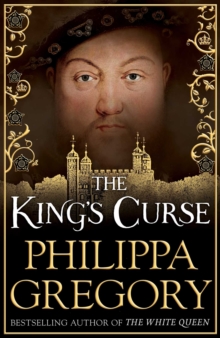 The King's Curse
Hardback
Description
From the bestselling author of The Other Boleyn Girl and The White Princess comes the riveting story of Margaret Pole, daughter of George, Duke of Clarence, and was one of the few surviving members of the Plantagenet dynasty after the Wars of the Roses.
Plantagenet, once carried proudly by Margaret like a crown upon her head, is now, at the end of the 15th century, the most dangerous name in England...
Information
Format: Hardback
Pages: 608 pages
Publisher: Simon & Schuster Ltd
Publication Date: 14/08/2014
Category: Historical fiction
ISBN: 9780857207562
Other Formats
Paperback from £6.89
EPUB from £5.99
eAudiobook MP3 from £25.19
Free Home Delivery
on all orders
Pick up orders
from local bookshops
Reviews
Showing 1 - 4 of 4 reviews.
Review by tina1969
16/06/2015
The final book in the cousin's war series brings the saga to an end. The narrator in this book is Margaret Pole who is duaghter of George Duke of Clarence and Isobel Neville. I have to say that I knew very little of Margaret Pole and have come away from tne book still not knowing much about her. Her narrative tells the story of Henry VIII and his wives up until Margaret is herself executed. I wasn't really expecting this and felt quite disappointed. What the book does do however is bring all the series together with the what has been the King's curse.What I did find interesting is that Margaret Pole lived at Stourton castle which unknown to me is not far from where I live. This I found quite interesting and didnt know that the castle was there and still is today although it is privately owned.Like all Philippa Gregory's books I found this one overlong at times although very interesting historically. Out of all the books in the series my favourite has to be The White Queen. Overall the series has been good at times but also dragged in places.In a way I am glad that the series is at an end so that perhaps PG can move on to something new.
Review by PhilSyphe
16/06/2015
"The King's Curse" is set in England from 1499-1541, told from the viewpoint of Lady Margaret Pole, niece of Edward IV and of Richard III.I believe this sixth instalment from the Cousins' War is also the last. I do prefer this one to "The White Queen", "The Red Queen", and "The White Princess" though the narrative voice in this novel strikes me as the blandest of the series. As other readers have commented, there are historical inaccuracies that the author is apparently aware of but has decided to tweak certain events to suit the story. As this is a work of fiction I guess there's no harm in this, though certain changes do seem pointless, such as stating that Richard III named Edward the Earl of Warwick as his heir when in reality he nominated John de la Pole Earl of Lincoln.In fact the de la Pole brothers are hardly mentioned. Richard – aka "The White Rose" – is omitted altogether. Perhaps the author felt this was one aspect too many, considering all the other events taking place in this long narrative. Still, Richard de la Pole's activities may have livened things up, plus it would've done the book no harm to have some of the more trivial and repetitive elements omitted.I feel that if an author wants to make several alterations to true historical events then why not write an actual historical fantasy? Or an alternative history? Just a thought.Repetition is something apparent throughout this series. Amongst other things, this book grabs hold of the belief that the Tudors have been cursed by former queens Elizabeth Woodville and her daughter Elizabeth of York, and the reader is reminded of this a little too often.The form of repetition that irritates me the most, which is evident in all six books, is the constant need to refer to characters by their full names and titles. In some instances the reader is reminded again and again of the relationship of certain characters, as is noted in the example below:"In the stable yard my companions mount their horses: my two granddaughters, Jane's girls, Katherine and Winifred."At this stage I know who Margaret's two companions are. I don't need reminding that they're her granddaughters. I know they're Jane's girls. I don't need their names specifying again. I certainly don't need it pointing out that there are two of them. So in one sentence the author is informing the reader of Margret's companions in four different ways when she could have said either:1)"In the stable yard my companions mount their horses."2)"In the stable yard my granddaughters mount their horses."3)"In the stable yard Jane's girls mount their horses."4)"In the stable yard Katherine and Winifred mount their horses."The above is one of several examples of not only using excess words but also of superfluous punctuation. Other reviews I've read of this series have picked up on the author's overuse of commas. This is true. She tends to use so many of them – sometimes aided and abetted by semicolons or colons – that it becomes a distraction. This can be avoided by constructing stronger and more concise sentences.It's really only my interest in the Wars of the Roses that's made me read the whole series. Ms Gregory is a good storyteller who's capable of setting the scene and bringing characters alive. She's especially good at creating child characters. But what's put me off reading more of her books is her lack of good English style, using numerous words when a few will suffice, needless repetition, sometimes taking too much liberty with historical events, pointless dialogue attribution in which she states who's speaking when it's obvious who it is, and in some instances having a tendency of "telling" rather than "showing".
Review by rabidmunkee
27/08/2015
This was an interesting book. Seeing Henry VIII's deterioration from the point of view of his cousin who has known him since he was born really gave you a new perspective. I really like Margaret Pole, but I disliked how she kept saying she didn't know about the curse. It was like an echo to Elizabeth of York in The White Princess that was rather annoying. I'm really sad the series about the Plantagenets is over because I really liked reading about this family (particularly about the three brothers of York). It'll be interesting to see what time period Philippa picks next.
Review by mfdavis
16/06/2015
Excellent, as always for this author. I listened on CD. I also enjoyed the author note at the end, explaining her "take" on Margaret Pole's life.<br/>
Also in the COUSINS' WAR series | View all