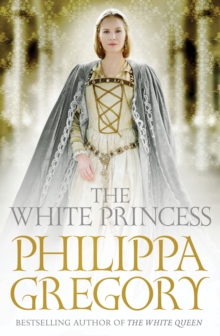 Description
The haunting story of the mother of the Tudors, Elizabeth of York, wife to Henry VII.
Beautiful eldest daughter of Edward IV and Elizabeth Woodville - the White Queen - the young princess Elizabeth faces a conflict of loyalties between the red rose and the white.
Forced into marriage with Henry VII, she must reconcile her slowly growing love for him with her loyalty to the House of York, and choose between her mother's rebellion and her husband's tyranny.
Then she has to meet the Pretender, whose claim denies the House of Tudor itself.
Information
Format: Paperback
Pages: 560 pages
Publisher: Simon & Schuster Ltd
Publication Date: 01/02/2014
Category: Historical fiction
ISBN: 9780857207531
Other Formats
Hardback from £15.79
EPUB from £5.99
CD-Audio from £18.39
eAudiobook MP3 from £20.12
Paperback from £6.89
Free Home Delivery
on all orders
Pick up orders
from local bookshops
Reviews
Showing 1 - 1 of 1 reviews.
Review by PhilSyphe
16/06/2015
"The White Princess" is set from 1485-99 and is told from Elizabeth of York's point of view. Elizabeth is famous for being daughter of Edward IV, niece – and alleged lover – of Richard III, wife of Henry VII, mother of Henry VIII, and grandmother to three Tudor monarchs.Yet despite her "fame", she is portrayed in this fictional account as a queen wielding no power who knows hardly anything. A large part of the story features her husband or mother-in-law asking her questions to which Elizabeth invariably answers, "I don't know." This proves a little tiresome after a while, as repetition tends to do in literature.Repetition, in fact, is a weakness of this novel. After a good opening, the story gradually becomes ever more one-dimensional. Elizabeth will repeat whatever someone has just said to her as a question: "He's here." "He's here?" Henry VII is forever fretting about "the boy" who he fears is Elizabeth's brother Richard; the youngest of the princes believed to have been murdered in the tower.It's obvious to the reader that "the boy" *is* Richard, especially when Elizabeth or her fanatically religious mother-in-law will almost speak his name when they knows they mustn't. Thus it seems silly that Elizabeth refers to him as "the boy" during her narration, as there's no doubt in the reader's mind that it's Richard, especially to those who've read "The White Queen".As with the aforementioned title, this tome, and the other books in the series, there are the constant reminders of who's who. Granted, there are several people with the same name, but the way Elizabeth continually gives individuals their full title, or names them and adds who they are to her or who they are married to, makes the work feel more like a children's novel.Perhaps the silliest thing to accept is Elizabeth's belief – or prediction – that Henry will lose a son, a grandson, and that the Tudor line will die out with a girl – or to be more exact, a Virgin Queen. Elizabeth even describes a well-known (but not in the 1400s) portrait of Elizabeth I. I realise that the author has included supernatural elements into this series, and like other readers I am ready to suspend belief regarding this, but the above-mentioned prediction by Elizabeth is too silly. Elizabeth, who is forever stating "I don't know" when asked questions about recent or present events, knows what's going to happen 100 years into the futureOn the plus side, the author does create a fifteenth-century atmosphere with her writing. She made me sympathise for "the boy" – aka Perkin Warbeck, aka Richard Duke of York – and even more so for Edward of Warwick, whose life was on the most part wasted because of his name.