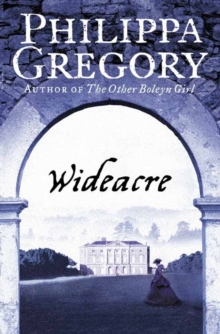 Description
Philippa Gregory's first novel and first in the bestselling Wideacre trilogy.
A compelling tale of passion and intrigue set in the eighteenth century.
From the author of The Other Boleyn Girl and The Virgin's Lover.`If it was the way of the world that girls left home, then the world would have to change.
I would never change.'Wideacre Hall, set in the heart of the English countryside, is the ancestral home that Beatrice Lacey loves.
But as a woman of the eighteenth century she has no right of inheritance.
Corrupted by a world that mistreats women, she sets out to corrupt others.
Sexual and wilful, she believes that the only way to achieve control over Wideacre is through a series of horrible crimes, and no-one escapes the consequences of her need to possess the land.Sweeping, passionate, unique: 'Wideacre' is the novel which brought Philippa Gregory to bestselling fame and is the first of the trilogy which continued with 'The Favoured Child' and concluded with `Meridon'.
Information
Format: Paperback
Pages: 608 pages
Publisher: HarperCollins Publishers
Publication Date: 16/10/2006
Category: Historical fiction
ISBN: 9780007230013
Other Formats
EPUB from £1.49
Hardback from £11.79
Free Home Delivery
on all orders
Pick up orders
from local bookshops
Reviews
Showing 1 - 4 of 4 reviews.
Review by ilurvebooks
16/06/2015
This is a first of three books and very very good the way Phillippa Gregory writes will captivate you from the first page to the last.
Review by livrecache
16/06/2015
This novel has to rate as one of the worst books I can remember reading. I felt thoroughly unclean wading through it. I had to skip bits as it was repetitive. I thought at first Gregory was doing some sort of weird satire of 'Gone With the Wind'. I've since found it was the author's first book. I can't imagine how she got it published. Any interesting research that is evident in her later books is lost in a quagmire of incest, murder, and a whole lot of prurient detail, a particularly unbelievable narrative voice and inept chronology and a host of other problems that I'm not going to waste my time describing. I'm glad that I came to her later books first. Shun this one!
Review by Ash_Charlton
16/06/2015
I came across 'Wideacre' by chance in my local bookshop, due to a 3 for 2 offer on books. Having already heard of Philippa Gregory and enjoyed 'The Other Boleyn Girl', I thought it was worth a shot. I love how Gregory manages to combine historical fact into the rich and lively plot of the novel. Gregory's writing style flows nicely and I found the novel easy to get through, purely due to how fascinating the plot is. An excellent read, I'd highly recommend it to anyone interested in historical fiction.
Review by Marlene-NL
16/06/2015
On Saturday, December 30, 2006 I wrote about this book:<br/><br/>This is such a great read. I bought this in Scotland and immediately started reading it. Loved all of it. <br/>I am reading book 2 now, The Favoured Child. Glad there are 2 more books of this series cause I did not want it to end. <br/><br/>4.5 stars and a 9 out of 10 on Bookcrossing
Also in the The Wideacre Trilogy series