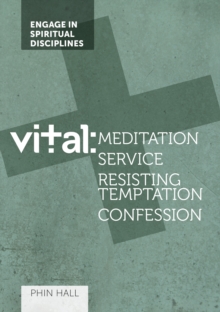 Vital: Meditation
Paperback / softback
Description
The 'Vital' series of books is for anyone who wants to grow in their love for God.
The spiritual disciplines have been practiced for centuries by godly man and women: they are of great worth in bringing us into a closer relationship with God as we 'work out' our salvation. Presented in a way that is beneficial for group, paired or individual study, readers are encouraged to investigate for themselves what is so vital about these practices and to adopt them into their daily routine. Each book in the series contains four studies, including daily readings for the individual, followed by questions to ponder or discuss in groups.
In this book explore:* Meditation: focus on God,* Service: focus on others,* Battling Temptation: focus on ourselves,* Confession: focus on daily life. To help you engage with these vital spiritual disciplines, each study contains video links to download additional free teaching from the author.
Also by Phin Hall