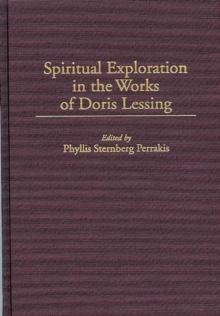 Spiritual Exploration in the Works of Doris Lessing
Hardback
Description
Though Doris Lessing never explicitly refers to spirituality in her works, she nonetheless explores spiritual issues throughout her texts.
This book examines the prominence of spirituality in her writings.
The volume provides both close readings of individual works and sweeping surveys of her nearly fifty year career.
The contributors employ a variety of theoretical perspectives such as systems theory, feminist studies of the body and of androgyny, postcolonial theories, mythic prophecy, and intersubjective psychology.
The contributors reveal that Lessing's presentation of spirituality is neither rigid nor orthodox neither the product of the split between the body and the soul nor anchored in formal systems of the past or present. The volume is divided into three sections. The first, on spirituality manifested in everyday life, examines individual works in which ordinary experiences such as growing old or struggling to adopt to the difficulties of married life comment on spiritual concerns.
Included are chapters on The Diaries of Jane Somers and The Marriages Between Zones Three, Four, and Five.
The second section contains chapters on the formation and dissolution of individual identity for characters at different stages of the life cycle and the parallel changes within societies at different stages of cultural collapse.
The third part presents chapters on the larger patterns that inform many of Lessing's works, with attention either to individual texts or to clusters of her writings.
Free Home Delivery
on all orders
Pick up orders
from local bookshops